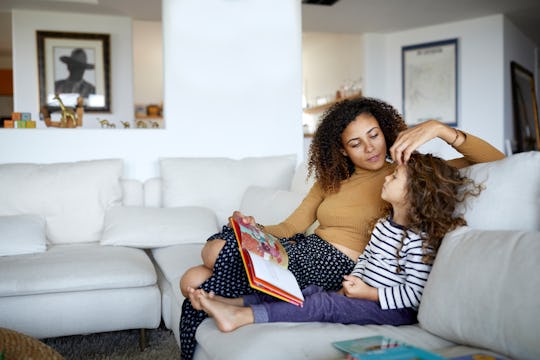 Cavan Images/Getty Images
These 18 Children's Books Will Help You Talk About Depression
Because it's a hard thing to talk about.
We may receive a portion of sales if you purchase a product through a link in this article.
Discussing mental health topics with your kids can feel so intimidating. Honestly, plenty of adults are challenged by the topic, so explaining something like depression in kid-friendly terms can be pretty difficult. Thankfully, there are plenty of children's books about depression to make the conversation easier, and many child psychologists recommend using books as a way to start a mental health dialogue with your kids early.
When to discuss mental health issues with children
In general, it's never too early to start the discussion about mental health with your kids. "Parents can discuss mental health information with their kids at any age, but the way we explain and teach about it will vary by age," Dr. Amy Nasamran, licensed child psychologist and founder of Atlas Psychology, tells Romper. "It's important to explain things in age-appropriate language and consider where kids are at in their own emotional learning."
For instance, children who are preschool-aged will understand emotions in broad strokes (happy, sad, or afraid), while elementary-aged children can start to understand more nuanced feelings such as anxiety or depression, Nasamran says. Beginning the dialogue about mental health early on can impact your child positively, experts agree. "It is never too young to start teaching children coping skills. Starting them young, in this regard, can be preventative in terms of decreasing the risk for the development of certain mental health challenges, including symptoms of depression and anxiety," says Dr. Toya Robertson-Moore, associate medical director with Pathlight Mood and Anxiety Center.
How books can help
Children's books can be a great resource for you when you start exploring mental health topics as a family. "Books are excellent tools for introducing mental health concepts. Using characters mitigates the weight of responsibility in the child and parent to explain or justify their reactions," Dr. Tanye' S. Tyler, DSW, MBA, LSW, chief innovations officer at A New Day Mental Wellness Center, tells Romper. "While reading with their children, parents can reference the character's behaviors and ask the child, 'What do you think this character was feeling?' or 'How would you feel if this happened to you?'"
"Reading books can help engage kids at their level," says Nasamran. "Most kids' books already use age-appropriate language and words that make it easier for kids to grasp."
With this in mind, here are some children's books about depression that help bring light to the condition.
Whether your child is showing signs of depression or you want to be able to explain to them how you're feeling, these children's books about depression can offer some talking points and metaphors that are relatable to everyone.
Experts:
Dr. Amy Nasamran, licensed child psychologist and founder of Atlas Psychology
Dr. Toya Robertson-Moore, associate medical director with Pathlight Mood and Anxiety Center
This article was originally published on