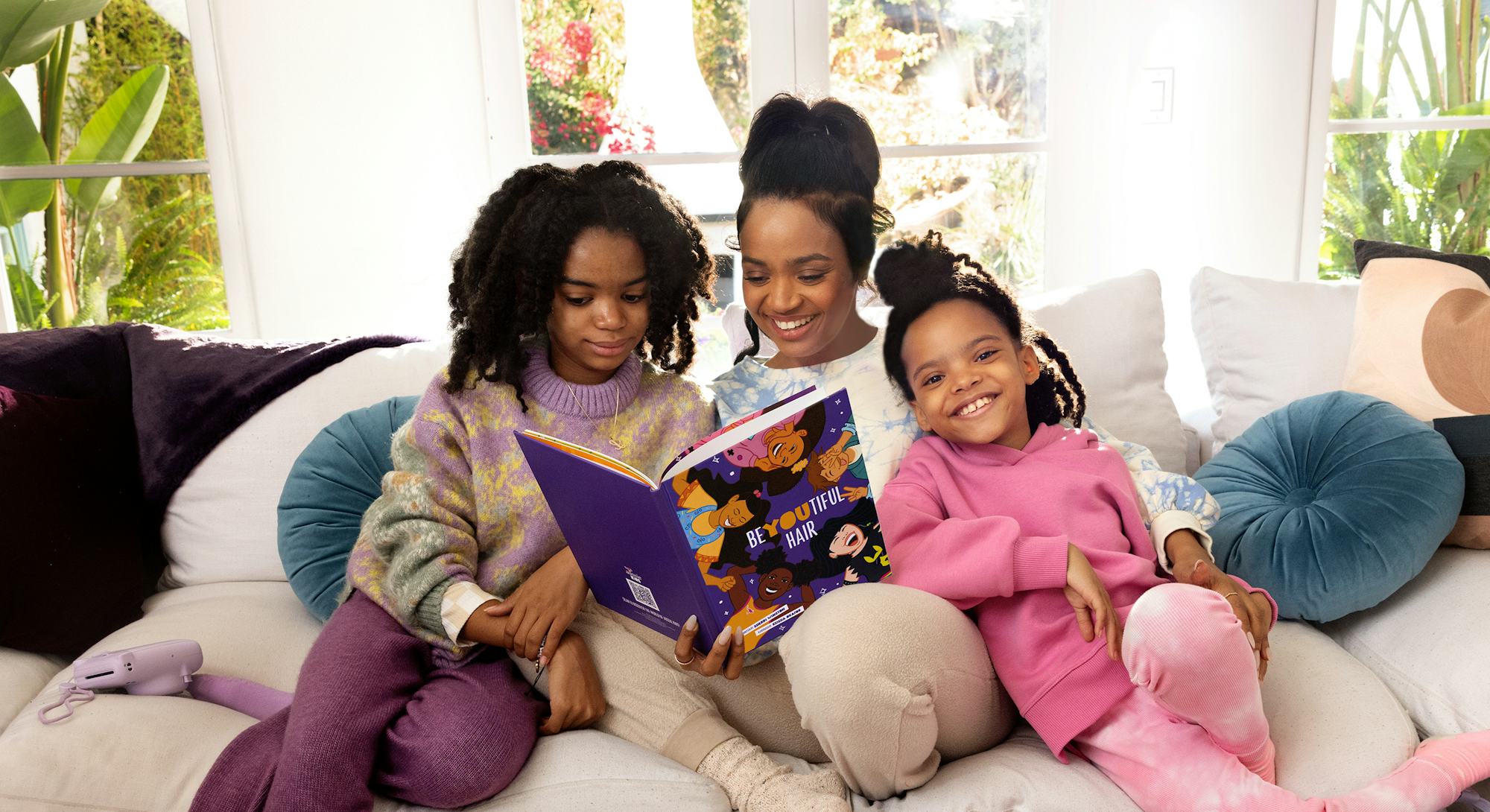 How Hair Care Became The Ultimate Bonding Experience For Kyla Pratt And Her Daughters
As the sunbeams and the chill of a typical Los Angeles morning start to wear off, I hear a familiar laugh from a young woman who is walking up the steps of a gorgeous West Hollywood home with her two little girls. My first instinct is to move out of the way for this Hollywood royalty and her heirs. But, before I can muster up the words to say hello, I hear, "Good morning, I'm Kyla." Her eyes light up even though I can't see her smile through her mask. "And this is Lyric and Liyah," she adds as she gently pats each of her girls on the head. "They're so excited," she beams. And, truth be told, so am I.
Kyla Pratt is a television figure I grew up with; she was one of my visual representations that Black beauty mattered. She brought to life guest-starring roles on shows like Sister, Sister and Smart Guy, to name a few, and later starred in shows like UPN's One on One and The Disney Channel's forever iconic animated The Proud Family.
But we aren't here to go over her impressive resume. Instead, we're sitting in a sunlight-filled room as she gets her hair and makeup done to talk about all things Black hair and what it means for her to be raising two Black daughters to love everything about their gorgeous curls. Like all Black girls, she too has stories of less-than-fun times getting her hair done in the '90s. "I feel like most little Black girls have trauma when they're growing up and getting their hair done. I feel like our parents weren't in a place of understanding at that time," she says.
But, like many other parents, she is changing that narrative for her daughters. "I want them to embrace their hair and texture and give them a chance to love their hair," she says. Pratt notes that both Lyric and Liyah have a lot of hair, and like many siblings, their hair textures are different. However, there's one product that works well for both of them — and she just discovered it recently. "I don't know anything about detangler [because] I didn't do my own hair," she says before adding with a laugh: "The first time I tried [detangler] on my daughter's hair, I was like, 'What? It's just smoothly going through?'"
Pratt loves using products that are "as natural as possible." And Aussie Kids Curly Detangling Milk and Aussie Kids Moist Detangler is formulated without parabens, sulfates, and dyes — as is their entire new Aussie Kids Curly and Aussie Kids Moist lines that also features a sulfate-free shampoo, a conditioner, and a leave-in conditioner made for little ones with textured hair. "Detangling, moisturizing, and plaiting up is my favorite situation. I feel like detangler has become one of my homegirls. I can't live without her."
For Pratt, hair time is bonding time, even if it comes in the midst of juggling life as a working mom. "To do their hair is a journey," she says with a chuckle. "I work all the time, and they have school. Finding the balance of being the 'perfect mom' is trying to make sure they get enough sleep, eat properly, [and then it's], 'OK, I need to do their hair.' I'm always looking for hairstyles that will last them a couple of days, so my favorite thing to do is to braid up their natural hair without adding hair, [and that] lasts about two weeks."
Pratt's youngest, Liyah, has a style that she calls her "signature," which is a puff nestled on the top of her head. "I don't know where she got that from," Pratt says with a big laugh. Regardless of the styles she creates with her daughters during hair time, Pratt notes the most important part of these bonding moments is how she approaches them:
"As parents, we have a lot going on, and there are so many times where you can get frustrated with other things going on in your life, and that can trickle down to your kids. I make sure I have worked through everything before I sit down and do my babies' hair, because they're kids; they're going to move. They're not going to hold their head a certain way. They're going to cry a little bit if you hit a certain area that feels tender. So you have to go into the situation [with your] patience ready, because it's only more intense if you raise your voice or if you're trying to rush."
One way Pratt sets the tone? "I'll put on a movie, and it's like, 'Hey, this is our time we're spending together after work and school. You finished your homework? OK, good, let's watch a movie together, and while we're watching the movie, I'm going to do your hair.' Instead of looking at it like it's a chore."
As her girls learn to love themselves from the inside out, she says language is everything. "I teach them what real bad words are, like stupid, or anything that has to do with weight. Or nappy. We don't do that. Those to me are real bad words."
Additionally, "I think representation is extremely important," Pratt says as she flips through the pages of Aussie Kids' new children's book, BeYOUtiful Hair, which tells the story of five friends learning to love and accept their different hair types. The hair care brand created the book so that parents and kids could embrace and celebrate diverse hair types — and ultimately bond over shared experiences together. What's more, Aussie Kids is donating 10,000 copies of the book: 5,000 books to schools around the country and another 5,000 to families like yours.
"Representation matters on both sides. We all deserve to be seen. And when you are growing, even as an adult, seeing someone who looks like you, acts like you, or talks like you, makes you feel not alone," says Pratt.
As we close our conversation, I ask Pratt what she hopes her girls will remember about their hair time together, to which she pauses to give some thought. "I'm imagining my kids getting older and flashing back to me running my fingers through their hair. I want them to remember me being as gentle as possible. I want them to remember every moment with me as a moment where they feel safe — doing their hair being one of those."
Photography by Kat Borchart; art direction by Angela Poccia & Emily DeSear; wardrobe styling by Alison Lewis; hair by Marcia Hamilton; makeup by Ashley Victoria; prop stylist: Gabriela Cobar; branded beauty lead: Irma Elezovic; talent booking: Lucy Haller; production: Kat Fry.