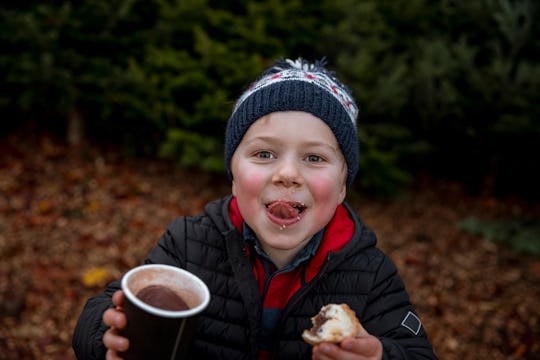 SolStock/E+/Getty Images
These 8 Awesome Lip Balms Are Kid-Safe & Parent-Approved
Chapped lips are the worst.
The only thing worse than having painful, dry, cracked lips is watching your kid suffer from their own. That's why it's helpful to have some lip balms that are kid-safe on hand so you can get the healing process started as soon as possible. In fact, you may want to just stock up on these like you do baby wipes so that there's always a pack nearby.
While your child can end up with chapped lips any time of the year, winter is particularly rough on them. "One of the most common causes of chapped lips is dry, cold weather which can transform into an irritant dermatitis called lip-licking dermatitis," dermatologist Aída Lugo-Somolinos tells Romper in an email, "This is caused by irritation with saliva as the kids moisten their lips constantly with their tongues." This may seem like a common event with your child, but if it goes on for too long without treatment, it can lead to much bigger problems. "If severe, it may require evaluation by a dermatologist and treatment with topical steroids," Dr. Lugo-Somolinos warns.
When you were younger, you might have just grabbed your tube of strawberry-flavored Lip Smacker and gone on your way when your lips were chapped. However, Dr. Lugo-Somolinos advises against products like these for toddlers and kids. "One of the most common causes of allergic contact dermatitis of the lips is fragrances," she explains, "The same chemicals used in fragrances are also used in flavorings like cinnamon, vanillin, etc." Your child could end up with a severe allergic reaction to these chemicals, which would make their lips even redder, swollen, and painful. Instead, Dr. Lugo-Somolinos suggests parents stick to lip balms with basic ingredients. "Look for simple, hypoallergenic ingredients like petrolatum, mineral oil, shea butter, and coconut oil," she says.
Here are some products to consider.
We only include products that have been independently selected by Romper's editorial team. However, we may receive a portion of sales if you purchase a product through a link in this article.
Expert sourced:
Aída Lugo-Somolinos, MD, Professor of Dermatology at the University Of North Carolina in Chapel Hill