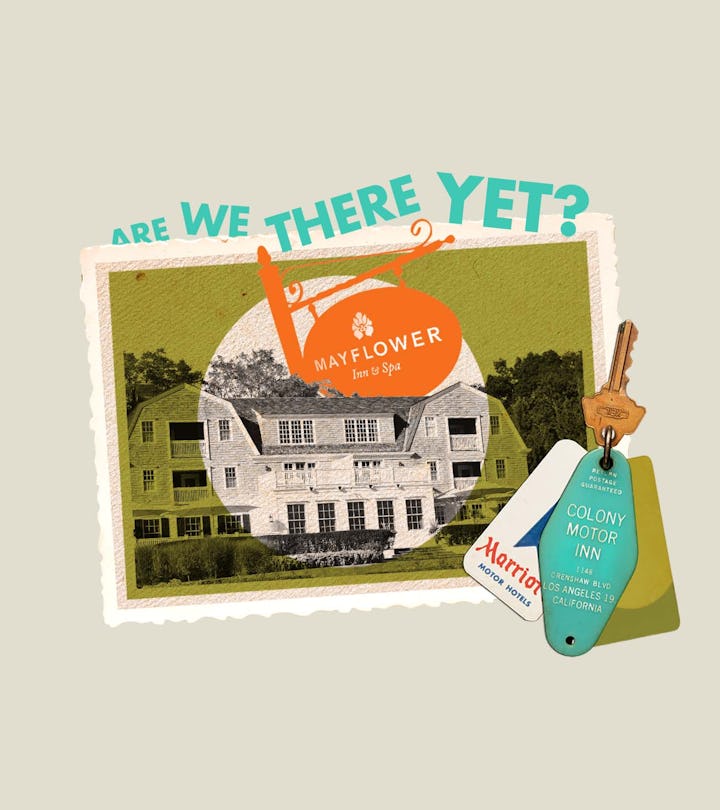 Connecticut's Mayflower Inn & Spa Is Like Summer Camp For Moms
Think White Lotus meets Gilmore Girls, with built-in itineraries.
There's a joke that moms stop going on vacations after we have children; from then on, they are "work trips." For the past couple years, that's definitely felt true. I've spent weeks researching locations in advance, planning activities and curating lists of "family friendly" restaurants only for a whole day to be derailed by a lost diaper bag. What is supposed to be a relaxing time away can leave you feeling more drained than ever, and vowing to never do it again.
Not so, though, this last getaway. My husband and I, along with our two kids — Oscar, 5, and Molly, 3 — just returned from a wondrous 24 hours at the Mayflower Inn in Washington CT, a one-of-a-kind luxury hotel less than two hours from New York City.
The whole Auberge Resorts Collection are offering something called Camp Auberge this summer, destination-specific itinerary created by the hotel with your individual family in mind. They do all the planning, and meals for children 10 and under are taken care of, so it is actually all the things we think quality time as a family ought to be: memorable, educational, immersive, adventurous and relaxing (even for mom!).
The iconic Mayflower Inn is a Dutch colonial estate situated on 58 acres of manicured hedges and woodlands in the rural town of Washington, Connecticut. The one of a kind country retreat is high brow, but in a low key kind of way. Think White Lotus meets Gilmore Girls. Sure, it's a little preppy and I don't know very many people who could afford a room (which go for around $1-3k per night) but if you can, or you really want a splurge, this is the place.
Surprisingly chill staff welcomed us with books for the kids and a plate of fruit in the room, including chocolate covered strawberries my kids went wild for (and I spent at least twenty minutes plucking shards of chocolate to of the rugs). The room itself was tastefully appointed and actually large enough to accommodate a family of four. After I moved a ginormous glass paperweight out of Oscar's reach, the kids safely bounced around the spacious suite while Arran and I took in a breathtaking New England view from our private balcony.
That afternoon, our itinerary encouraged us to explore the beautifully landscaped grounds and try our hand at croquet. Instead, we played an epic game of floor is lava. The kids took turns on a wood rope swing, helped a bumble bee with a hurt wing and happily wandered around the picturesque lake.
There are three restaurants on site, with three different menus featuring farm fresh seasonal ingredients. We had dinner on the patio of the Tap Room, a country-chic dining room that serves pub-style fare. Afterwards, the kids spent nearly an hour chasing each other around the Shakespeare Garden while my husband and I had an actual conversation at our own private fire pit.
The next morning, we slept in and nearly missed family swim time at the Well, an on-site spa and fitness center described by Vogue as "New York City's buzziest wellness destination." I took advantage of a complimentary yoga class before lunch in the Garden Room, where I enjoyed the biggest, freshest country salad and a perfectly cooked piece of locally sourced wild caught trout.
Camp Auberge is an opportunity for moms like me who feel just a little envious when we sign our children up for all those amazing summertime experiences, and more than a little exhausted by all the unpaid labor it takes to pull off your typical family trip. There are tons of locations all over the country and beyond, each with its own trip-of-a-lifetime itinerary: explore California wine country with a horseback ride to Bartholomew Park, courtesy of Stanly Ranch; get an education in natural horsemanship at the remote Wasatch Mountain retreat, The Lodge at Blue Sky in Utah; meander lava fields and cascading waterfalls by private boat or helicopter charter and paddle the waves with Kainalu Ocean pros at Hawaii's sacred oasis on the Kohala Coast, Mauna Lani; and journey to one of the most active wildlife locations on Earth at Corcovado National Park in Costa Rica with Hacienda AltaGracia.
I was unsure that "luxury" and "kid friendly" could mix, but the folks at The Mayflower Inn strike just the right note. Yes, someone will spill something everywhere and you will still have to say "pull your pants up" and "don't lick that!" at least a dozen times but no one shoots you a dirty look when you wander downstairs in your pajamas in search of coffee at five in the morning (because that's what time the littlest one woke you up) or because your kid is barefoot at the dinner table (because he threw the only sneakers you brought into the lake). With everything on-site and within reach, there's no misplacing the diaper bag, and even though we didn't stick precisely to the itinerary, I was happy to have one I hadn't had to create.
In another lifetime, where my husband works in finance and/or my daddy left me an enormous trust fund, the Mayflower Inn is my go-to place for a relaxing weekend away. In the least, we'll be back for a meal and to finish exploring all that we missed.