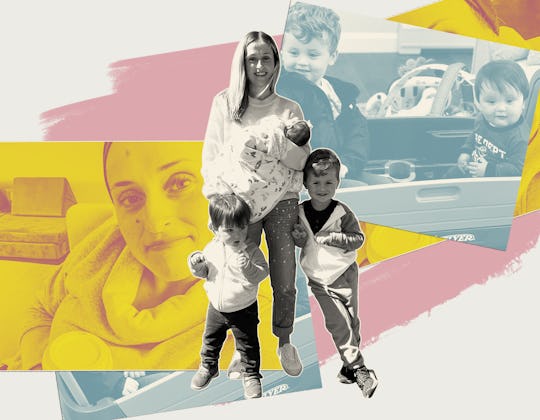 Parenting Is Hard. Parenting With MS Is Even Harder.
Currently, there are 1 million people living with multiple sclerosis (MS) in the United States. And since most people are diagnosed with the chronic disease between the ages of 20 and 50, it makes sense that many individuals living with MS are also parents.
Parenting is a challenging endeavor no matter what your circumstances are — trying to be the best parent possible while living with a chronic autoimmune disease can certainly seem unfathomable. But for individuals like Stephanie White, it's their reality.
White, now 30, has been living with MS for 11 years. She was diagnosed in January 2010 when she was just a freshman in college. While she was initially concerned about how her disease would affect her future dreams of becoming a mother, today, she has three children all under the age of 4.
To help shed light on the complexities of parenting with MS, we talked to White about her daily life, her resilience, and how she doesn't let MS take away from her favorite job: being a mom!
1. What does being a mom with MS mean to you?
"I asked myself: 'Could I still be a mom? Could I still be a good mom? How will I explain this to my kids?' MS has thrown me a lot of curveballs, especially in the earlier years of my diagnosis. But if anything, my diagnosis has made me stronger — and that strength has helped me on my motherhood journey. Now, being a parent with MS means resilience."
2. What is your greatest struggle when it comes to being a parent with MS?
"Parenting is hard, and we are all tired! But I would say my greatest struggle is remembering things. I'm always afraid I'll forget something for my son's preschool or miss doctors appointments. I'm also really hard on myself when I offer my children TV or iPad time, because sometimes I just need to sit and reset. I have two very active boys, and in between playing with them and managing my household chores, I'm sometimes really hard on myself that I'm not doing enough in one of those areas."
3. What kinds of adjustments do you need to make as a mom with MS?
In order to feel her best so she can be the best parent possible, White relies heavily on her self-care routine of working out and living a healthy lifestyle. She wakes up early to get some quiet me time in the mornings and exercises daily (sometimes her kids even join!). She also works hard to stay organized, as difficulties with memory is a cognitive symptom associated with MS.
"Since having my kids, I have been better about planning, making lists, and writing everything down in multiple places. I have a family calendar-slash-organizer in our hallway, I make lists on notepads, and I have a planner."
4. What do you do on the days you just cannot?
When things get really overwhelming or White is experiencing MS side effects, like extreme fatigue, she relies on her network. "Support from family and friends has been my saving grace. I have the most amazing support system, and I would literally be lost without them. Someone is always there [to help out with the kids] when I need them."
5. What's your best advice to other parents with MS?
White advises other parents with MS to not define themselves by their diagnosis and know that they can still be good parents, even when living with a chronic illness.
"No matter what — no matter how fatigued you are, or how many breaks you need — you are exactly who your children need!"