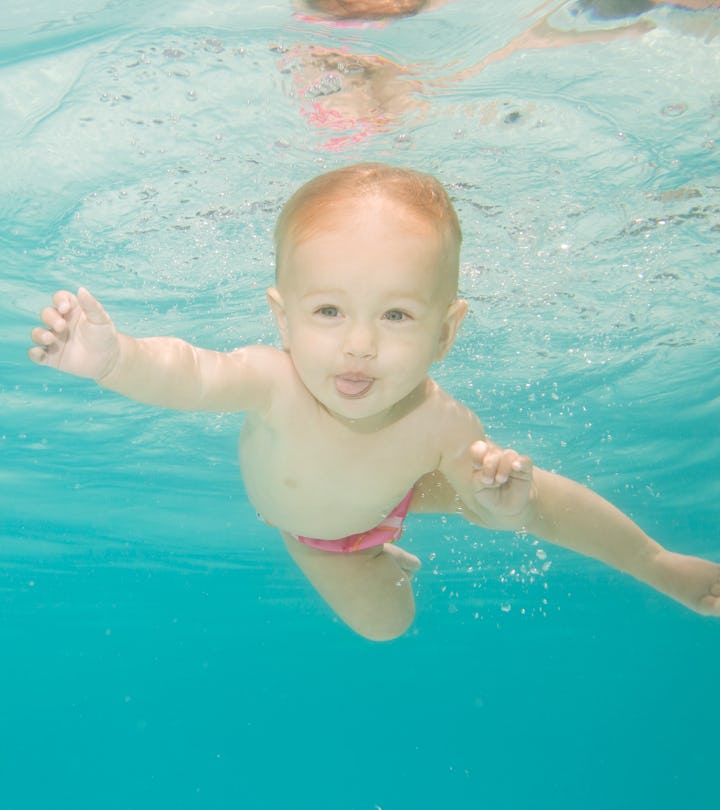 Ming H2 Wu/Tetra images/Getty Images
13 Undeniably Cool Photos of Babies Swimming Underwater
This is your sign to get your baby enrolled in that baby beluga swim class stat.
It's summertime and you may be hoping to take your baby to a splash pad, play in the shallow end of your local pool, or maybe even relax by a lake. What's the most important part of being able to enjoy a little summer fun with your babe? Knowing that your baby likes water, and that you know how to safely help them enjoy it when they still need to be supervised closely at all times. Remember, the American Academy of Pediatrics (AAP) recommends that you keep baby within arms reach at all times when you're near water, as part of their drowning prevention toolkit.
Even though babies are too young to be left alone near water, swim lessons are not just for big kids; babies can take them too. Claudia Barahona, the manager of Saf-T-Swim School in New York, teaches babies as young as 4 months old become comfortable in the water.
"I believe that every child should at least have the principles of swimming and knowing how to respect the water and knowing that it is fun, but that it can be dangerous as well," Barahona says.
If you feel nervous at the thought of putting your infant in swim lessons, don't worry — you're not the only one who feels this way, and it's not a requirement by any means. And yes, many kids cry when they start lessons for the first time, and watching them adjust can prove difficult for parents, Barahona explains. But later, she adds, parents who started their babies or toddlers in swim lessons early often recognize how many benefits their child got from being introduced to swimming techniques early on.
If you're still not sure how comfortable you are putting your kids in water environments yet, look at these adorable pictures of babies swimming. If they can do it, so can your child — with you right there next to them, of course.
With a little help from a high-quality swim school you can prepare for the next family vacation or trip to the pool by getting your little one in the water safely with instructors who can help them grow.
Expert:
Claudia Barahona, the manager of Saf-T-Swim School in New York