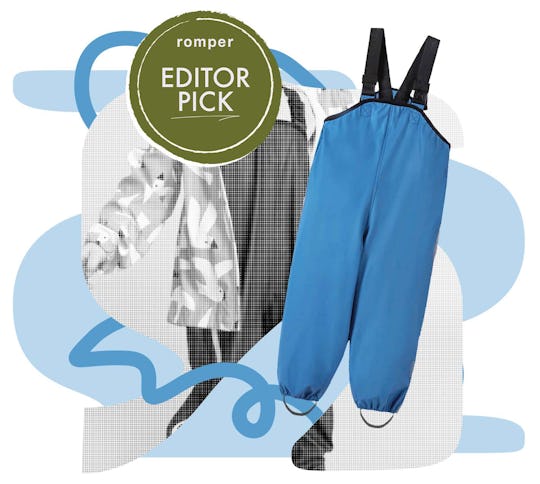 These Are The Rain Pants That Get My Kids To Play Outside In Winter
Rain, rain, come back here!
Had To Share
We may receive a portion of sales if you purchase a product through a link in this article.
My kids, ages 3 and 6, spend a lot of time outdoors and in the woods. One category of clothing that I've had to get an unwanted crash course in (via a lot of trial and error) is waterproof clothing for hot and cold days. We have more than one XXL storage tub in the basement devoted to housing weatherproof clothes for our family of four, from snow bibs to insulated jackets to a variety of boots. But one thing that stays in the mudroom year-round is these waterproof bib-style Lammikko rain pants from Reima.
What is Reima?
Reima is an outdoor kids apparel company based in Finland. They have a 75-year history, but I only found out about them about few years ago when I got a pair of rain pants for my then 3-year-old. She was starting at a new school where nature exploration is a big part of their day. Rain, shine, or snow — they spend many hours a week outdoors, which means my job as a parent is to make sure she's appropriately dressed for it. Reima focuses on this one category — outdoor apparel for kids —and they do it well. Plus, sustainability (using recycled materials and fabrics to make their clothing and gear) is a priority for them, which is also important to me.
Stats
Price: $39.95
Sizes: From 9M to 8Y
Colors: Misty red, jam red, rose blush, yellow, candy pink, denim blue, navy, and greyish green
Who it's for: Babies, toddlers, and kids
When to use: On any wet or rainy day
What it's made out of: Polyester jersey with nontoxic OEKO-TEX coating
Pro-tip: Size up so your kid gets more wear out of their pair.
What's so great about the Reima rain pants?
First, the cut. I admit, I never would've considered bib-style rain pants until our school added a snow version of them to the winter supplies list. All I could think about was how annoying it would be to take a kid wearing these to the restroom. But now I get it — water and snow can really get anywhere, especially on a young child who's rolling around on the ground with not a care in the world, least of all if they are warm or dry.
These rain pants are like mini waders — kids wear them like overalls over their everyday clothes, and depending on how quickly your child grows, your kid could wear these over the course of a few years. And these are easy to put on and take off — my kids haven't had any trouble with them.
The adjustable shoulder straps give you six centimeters (or two inches) of flexibility on the length. I sized up when I ordered these pants because I realized that my kids could always wear a larger size (they would just bunch at the ankles), but we'd have to replace them when they outgrow the strap length.
The Reima rain pants are not reserved just for drizzly days. They are equally great for after-rain adventures to the playground, the backyard, wherever, on the hottest of days and the coldest. Your kids (and by extension, you) don't have to worry about sliding down a damp slide in these bad boys. Does your toddler insist on playing in a wet sand box? They can sit down and get comfy. They may get sand everywhere else, but their butt will stay dry.
The materials
The Reima Lammikko rain pants are waterproof and PVC-free, made of a recycled polyester jersey material, and waterproofed with a nontoxic, PVC-free, OEKO-TEX coating. They're extremely lightweight and packable, which is incredibly convenient, especially when you're sending them to and from school day after day. Even though the pants feel thin, the material is resilient. The pair that we've had for three years has gotten a lot of action and is still in great shape.
As for care and maintenance, Reima's website recommends washing them by themselves and inside out in the washing machine, no detergents, bleach, or anything else in the basin. Then, just lay them flat or hang them them to air dry. Because they are so well coated, we honestly rarely wash them. For the most part, water and mud just kind of slides right off.
Pros & cons
Pros:
They come in a wide range of colors, from vibrant options (which make it easy to spot your kid from afar) to minimalist hues.
They're lightweight and long-lasting.
They're easy to take off and put on.
They really do keep my kids bone dry.
Cons:
They're not the cheapest rain pants on the market (but not the most expensive either).
They don't offer plus-size options.
TL;DR
Reima's waterproof pants for kids are just solid rain pants that are worth the price point for their quality and longevity. I know I'll find myself just ordering the next size up when my older kid outgrows them, while the younger one, of course, gets the still-good-quality hand-me-downs.
Had To Share highlights the products and finds that Romper editors and contributors love so much, we just had to share in the group chat.