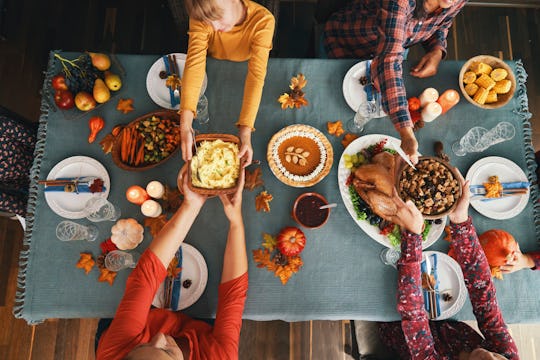 GMVozd/E+/Getty Images
Safe Ways For Your Kid To Volunteer This Thanksgiving
Since food banks and serving at food kitchens is out, you need some new service ideas for children.
For many families, Thanksgiving will look a lot different this year. But while travels plans have likely been postponed and there may be fewer guests around the dinner table, the spirit of giving thanks remains the same (and may feel stronger than ever). It's never too early to teach your children the importance of giving back, and no better time than Thanksgiving. But how can kids volunteer safely for Thanksgiving?
With so many COVID-19 protocols in place, many food banks and shelters have temporarily suspended volunteer assistance, but there are still plenty of ways your child can give back in a meaningful way. First, involve your child in the decision. Talk about what they'd like to do and how they think they could be of service. If your child loves to draw, maybe sending cards might be a good idea. If your child has become a wiz at the computer thanks to online learning and Zoom calls with grandparents, perhaps setting up an online fundraiser is the way to go. Whatever you decide, make sure your child understands why you're giving back. Instilling the importance of being thankful and the larger feeling of living in a global community will set them up for a lifetime of empathy, service, and counting their blessings.
Check out my suggestions below, and Happy (early) Thanksgiving!