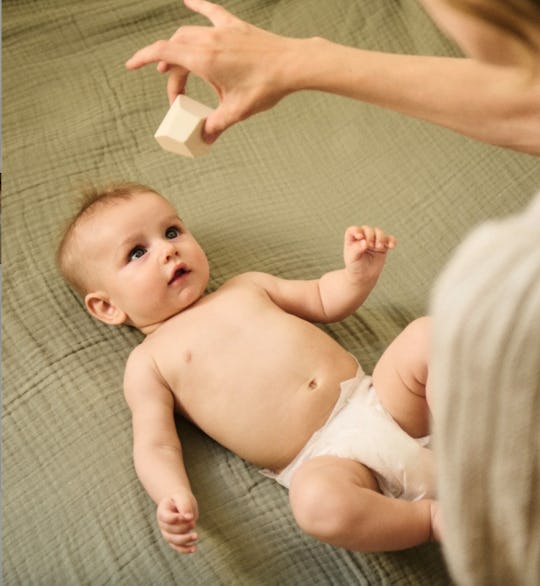 Spring Cleaning? These Clever Home & Baby Products Are Just What You Need
We may receive a portion of sales if you purchase a product through a link in this article.
Ah, spring. The time of year that begs for cleaning up our homes, our routines, and anything else that could use a refresher. At the top of the list this season? Diapers and all the other essentials for my two littles. Everything's about to be so nice and clean.
Luckily, Healthybaby makes it easy. For cleaner, well-made products it is definitely a brand worth knowing for its nontoxic diapers, wipes, and even cleaning supplies. On a mission to build a healthier environment for babies, it's known for an award-winning diaper that's Environmental Working Group (EWG)-verified, so you know it meets the organization's strict standards for health.
The Healthybaby Picks That'll Clean Baby's Routine Right Up
1. The EWG-Verified Diaper
First up: Healthybaby's award-winning, non-toxic diaper with the EWG's stamp of approval, which means this diaper is free of what the EWG deems chemicals of concern. This plant-based diaper offers overnight leak protection, and this moisture-wicking pick is made with organic cotton for breathability and comfort. You'll be happy. Baby will be happy.
This diaper pack arrives in biodegradable paper packaging and contains 30 to 42 diapers depending on the size (younger babies need more frequent diaper changes). You could also spring for the monthly bundle, which comes with multi-packs of diapers, wipes, and developmental tips and activity ideas.
Shopper Review: "We've tried diapers from six similar brands, but Healthybaby was the clear winner! I'm amazed by how lightweight they are, yet they still manage to keep my son dry overnight at 4.5 months old. They're so soft and I love putting them on knowing that they're designed and made with babies' health in mind. Whenever I buy products for my son, I do so thinking about how they will impact his health both now and down the line. I'm just so happy to have found a brand that is both high performing and thoughtful."
2. The Pull-Up Style Diaper
For toddlers and preschoolers, Healthybaby makes their beloved diaper in a pull-up style as well. Like the original plant-based diaper, it's non-toxic, EWG-verified, and made with organic cotton. The stretchy waistband offers a comfy but secure fit with sides that tear away easily when it's time for a diaper change. This pack contains 27 to 36 diapers, depending on the size. And that overnight leakproof protection will be so worth it when LO is no longer waking you up at night because of an accident.
Shopper Review: "Love how my little can pull these up and take them off on her own. It's important to me they're healthy for her skin and the packaging comes without plastic."
3. The Wet Wipes
Healthybaby's EWG-verified premium wet wipes are water-based, plant-based, and noticeably thicker than other baby wipes out there, so you don't need to through as many to get the job done, according to reviewers. The four-pack includes 256 wipes designed for gentle use with soothing ingredients, like chamomile, vitamin E, and organic aloe. You can also stock up with a multi-pack of eight for 512 wipes or choose a monthly subscription.
Shopper Review: "Best wipes on the market that tick all the boxes — clean ingredients, thick and textured, biodegradable, made in the US, and soft and gentle on baby's skin. I found these and haven't looked at any other brands since."
4. The Complete Non-Toxic Cleaning System
Oh, the surfaces you'll wipe down — clean up the messes and leave each area baby-safe using Healthybaby's cleaning system. The water-based and plant-based concentrate cleans effectively yet gently, and it comes in a 16-ounce bottle that refills 16 stainless steel bottles for surface spray, hand soap, or baby dish soap. This set also includes a 16-ounce reusable stainless steel bottle for surface spray, 12-ounce reusable stainless steel bottle for foaming hand soap, a 16-ounce reusable stainless steel bottle for foaming baby dish soap, and three reusable Swedish dish cloths.
Shopper Review: "Amazing!!! Feels so good not to worry about chemicals with three littles at home."
5. This Non-Toxic Laundry System
This laundry detergent concentrate is a great addition to a non-toxic routine for your home, and the 16-ounce bottle comes with a convenient pump. Healthybaby's laundry detergent concentrate is biodegradable and uses plant-based enzymes to thoroughly clean clothes — for baby's stuff and yours, too. The laundry system also includes three wool dryer balls, which function as non-toxic, reusable fabric softeners.
Shopper Review: "So far so good. Gentle, no scent, and peace of mind with safe substances meeting with our newborn's skin who will already be working extra hard to be as strong as possible coming into the world three weeks early in a high risk scenario."
6. The 2-in-1 Botanical Shampoo & Body Wash Concentrate — For Up to 200 Baths
Healthybaby's shampoo and body wash concentrate is gentle enough for newborn and sensitive skin with a botanical formula that's plant-based, too. The set's 34-ounce bottle fills the included reusable stainless steel bottle up to six times — so you're set with this one order for many adorable bubbly baths.
Shopper Review: "Best baby shampoo ever. Love this product. I have been using this product for over a year and my 2 toddlers love it too. Doesn't burn or hurt their eyes and what I like the most are the clean ingredients."
This article was originally published on