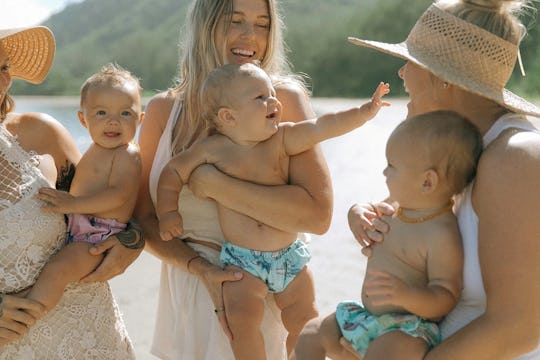 Stock Up For Summer With These Beautiful Cloth & Swim Diapers Before They're Gone
Reusable — but make it cute.
We may receive a portion of sales if you purchase a product through a link in this article.
Summer is so close, and your LO is going to have a blast under the sun — why not do it in style and sustainably? Aussie brand EcoNaps's fan-fave cloth diapers make switching to reusable diapers easy — if you haven't already. The award-winning brand focuses on environmentally-friendly diaper products that look as good as they function, and the EcoNaps and Plastic Free Mermaid limited edition collaboration is one you don't want to miss. This adorable collection with ocean-inspired designs in sweet hues features the reusable diapers, and you can stock up on matching swim diapers and wet bags, too. (Trust me — the wet bag is the go-bag you absolutely need in your diaper bag (or beach bag).
Australia's Fave Cloth Diaper — Now Available In The U.S. In Adorable Ocean-Inspired Prints
Most babies go through 2,500 disposable diapers in just their first year — which is why EcoNaps set out to make a reusable cloth diaper that was effective, comfortable, and looked good, too. The resulting EcoNaps cloth diaper is the recipient of various awards, including the best reusable diaper by The Organic Baby Awards, and it is certified plastic neutral by Plastic Bank. The brand has since expanded to offering other baby necessities, like swim gear and changing accessories, in its signature beautiful designs and sturdy, recycled materials.
The EcoNaps x Plastic Free Mermaid Limited Edition Collaboration
As part of this limited-edition collaboration, EcoNaps's teamed up with Kathryn Nelson, an environmental activist and author known as the Plastic Free Mermaid, who left single-use plastic behind in 2009. With over 100,000 Instsagram followers, Nelson is comitted to reminding us to make sustainable choices that help protect our oceans. And that idea is definitely pulled through in the sweet sea creature designs — created by Victoria McGrane in collaboration with Nelson — that adorn these beautiful, reusable diapers and accessories. Each reusable cloth diaper helps reduce plastic waste, a significant contributor to ocean pollution.
Here's a quick look at our favorite products from the EcoNaps x Plastic Free Mermaid collaboration.
1. The Reusable Cloth Diaper
The EcoNaps cloth diaper is made from recycled plastic bottles, bamboo, and cotton, resulting in a highly-absorbent diaper that's leakproof, soft, and machine washable. Each cloth diaper prevents the equivalent of five plastic bottles from polluting the ocean, according to the brand.
The snap fastenings make these easy to get on and off, and the diaper comes with two bamboo inserts. One of our favorite features is the one-size design that grows with baby from newborn to toddler — yep, one size — so these diapers are with your little one for the long-run.
Cloth diapers do cost more upfront, so consider a bundling deal: buy six diapers and save 15% or buy 12 diapers and save 25%.
2. The Cute & Comfy Swim Diaper
This lightweight swim diaper features an elastic waistband with snap buttons on the side and an inner mesh layer that'll keep things contained while your little one splashes away in the ocean (or pool). Each fade-resistant diaper also features two sets of waist snaps for an adjustable fit.
And like the cloth diaper, the EcoNaps swim diaper is certified plastic neutral and made from recycled materials. Available in three sizes, these swim diapers suit up your baby or toddler comfortably for those warm-weather days.
3. The Wet Bag You Don't Want To Leave Home Without
The EcoNaps Day Tripper wet bag is a must-have for stowing soiled cloth diapers on the go because it contains everything leak-free and odor-free until you can toss it all into a washing machine. The odor-resistant bag fits up to 10 cloth diapers, features a separate compartment for dry items, and conveniently folds flat for storage — or stands up thanks to the flat bottom. It's also a great beach bag accessory for storing wet suits until you can sort them later.
4. A Soft, Waterproof Changing Mat
Made from recycled plastic bottles, this travel change mat fits standard changing tables and is super-soft thanks to bamboo velour on one side. The waterproof mat rolls up with a snap-lock clasp to fit easily into a diaper bag, and it's conveniently machine washable.
The EcoNaps x Plastic Free Mermaid Limited Edition Collection
This article was originally published on