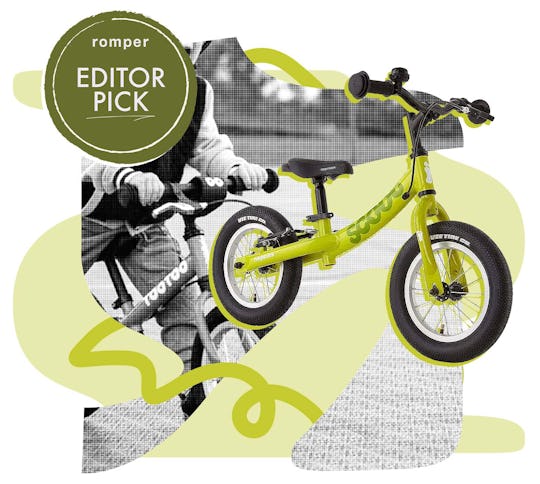 We Tried A Lot Of Balance Bikes For My Kid, But This One Has It All
The joy of cycling has been unlocked.
Had To Share
We may receive a portion of sales if you purchase a product through a link in this article.
A cherry-red bike with a big satin bow on top feels like the quintessential Santa gift, doesn't it? When we tip-toed down the stairs on Christmas Eve a few years ago and rolled the Ridgeback Scoot into the place of honor — near the stockings, resting against the mantle, glittering in the light of the tree — we felt mighty pleased with ourselves. That it required no assembly was a delightful respite after years past (I'm looking at you, IKEA play kitchen), but it also just felt so right. Our son had just turned 3, and the wobbly wooden trike I found in a neighborhood 'free' pile wasn't cutting it anymore. He had a need for speed. The Ridgeback Scoot was a total splurge, and it was a slightly stressful holiday gift to order — it ships from the U.K. — but it gleamed. With a special helmet dangling from the handle bars, it was one gosh-darn inviting super star gift for our kid to wake up to on Christmas morning. And our love for this sporty balance bike only got deeper as our son began to actually use it.
Stats
Price: $289
Sizes: Just one size, but it comes with two seat posts for a seat range of 14" to 20"
Colors: Blue, green, lime green, mint, pink, red, and white
Who it's for: Kids age 3 to 5
When to use: When your kid is ready to move on from a tricycle, but isn't ready for a pedal bike quite yet, a balance bike is thought of by many to be better alternative to training wheels, especially for young riders.
The specs
There is so much to love about this balance bike, it's hard to know where to start. A few of our favorite features — some that I love and some that my kid really loves — include:
Hand brakes. More on this essential feature (that many balance bikes lack) below.
A ding-y bell on the handlebars that he loves to ring and has been a great conversation starter about bike safety and riding with awareness.
Grippy, burly inflated Speedster tires by Vee Tire Co. for a smooth ride and quick stops
Long wheelbase and low center of gravity for stability & comfort
Zero weight limit, so the bike is safe for kids of any size (though it is recommended for kids over 30 pounds)
A super lightweight (read: easy for a kid to maneuver) aluminum frame means the entire bike only weighs 10.5 pounds.
A truly well-made saddle that's both sturdy and comfy
Our Ridgeback Scoot has seen years of heavy use, and it looks pretty pristine. After getting the bike for Christmas right after turning 3, our son started to play with it by walking it around the house. With balance bikes, you are apparently not supposed to tell your child to sit down. You want them to play around with the bike and get used to the feeling of straddling it, maneuvering it, and so on. So our son played with it, walked it around, and little by little — maybe over the course of a week or two — walking became riding. By the time spring rolled around, he was ready to bomb down the steepest driveways in our neighborhood, and the only barrier to speed was my chasing after him to yell, "Slow down!"
The features
Here's what sets the Ridgeback Scoot apart from the rest, in our book.
It's a balance bike that really grows with your kid.
The bike comes with two seat posts of varying sizes to make sure that the bike can really grow with your kid. In a few weeks, our kid will turn 6 and he's still cruising around the neighborhood on the Ridgeback Scoot, often riding circles around kids on scooters, pedal bikes and bikes with training wheels. Why, you might ask, haven't we bought him a pedal bike yet? Because I am truly not ready to run that fast. Because of his mastery of the balance bike — which happened quickly and with ease within a few months of getting this bike — I know he's going to hop on a pedal bike and immediately zoom away. He's ready, and also he's still having a blast on the Scoot, so what's the rush? We're waiting until he asks for an upgrade.
I can tell the Scoot is fun to ride.
Do you have a child with a need for speed? Does your child live for the moment when Lighting McQueen (whom my kid calls "Lightning The Queen," please never stop) says, "Gimme speed?" Your child needs a Ridgeback Scoot.
We've gone on many a bike ride with neighborhood kids, all on their various balance bikes and inevitably, there comes a moment when one of them decides it would be fun to trade bikes for a while. It is never my kid that wants to trade bikes (though he usually tolerates it for a while) because he likes to bomb down hills with his feet in the air and practice skidding to a stop at the last possible moment rather than sort of toodle around. Is it the tires, the hand brake, the mechanics of the bike itself that make it so much more fun and fast than the others? I think all of the above. This is a bike made by people who love cycling and want kids to love it too, and it shows.
It has hand brakes.
The Ridgeback Scoot has lovely, responsive, hand brakes built for little hands, and I love them so much. Why do so many other balance bikes not include them? I have no idea — price, I assume — but it really seems like a flaw. Even Wirecutter, who chose the hand brake-less Strider as their fave, calls out the lack of hand brake as a downside.
As my kid has gotten older and learned to balance on the bike, he has also mastered (slowly) the art of using a hand brake. When the bike was new, he mostly just stopped with his feet (or by crashing into my legs) but as he's gotten better at maneuvering the bike, he's been able to shift some of his brain power to handling the brakes, too. I think it contributed to the longevity of this bike in our home — even though it doesn't have pedals, it has kept him engaged and challenged for years now. And, when he gets a pedal bike, he will already know exactly how to stop and therefore be that much more comfortable and confident.
Pros & cons
Pros:
Easily adjustable seat makes it last for years
Grippy, tough tires compared to many other brands
Sporty and stylish
Really comfortable for little kids
Lightweight aluminum frame makes it easier for kids to manage
It has hand brakes, which a lot of other balance bike brands lack.
Cons:
Pricey compared to other popular brands
Delivery may take a while since it ships from the U.K.
The final verdict
There are a lot of balance bikes on the market now, and it may seem like they're all roughly the same. Or, if you've been handed down a balance bike, you might think that's the one your kid might as well learn on. However, after watching my kid try many other popular brands, and then hop back on his Scoot bike, I'm convinced that this bike is better enough to be worthy of investment or seeking out secondhand. I think that the Scoot has made my kid feel like biking is fun, and having a really high-quality bike to learn on has made him a safer, stronger, and more confident rider.
Oddly enough, I think I'd be more inclined to save money on a pedal bike and invest early on in the balance bike to ensure a really positive, joyful first experience of biking. Once they love it, go ahead and save money on a secondhand or hand-me-down pedal bike.
The TL;DR
This high-quality balance bike is a worthy investment.
Had To Share highlights the products and finds that Romper editors and contributors love so much, we just had to share in the group chat.