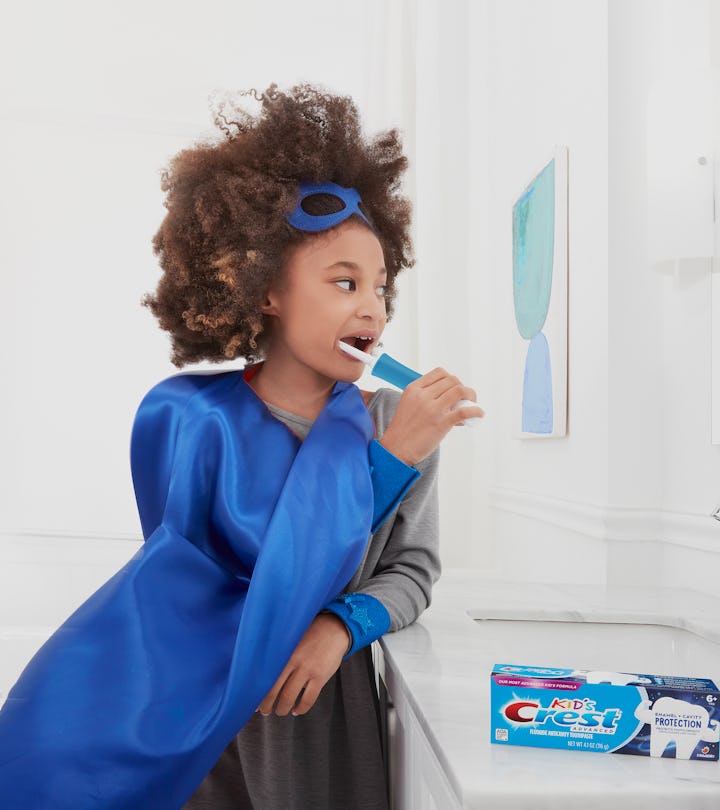 The Tired Mom's Guide To Teaching Your Kids About Dental Hygiene
The key is to make fighting cavities fun.
When I was a twenty-something stay-at-home-mom of just one adorable chubby cheeked toddler, I had nothing but time and energy. Twice a day, I would carefully polish his little teeth for two minutes while he sat patiently on the bathroom counter. That mellow little guy was the center of my world, and taking care of his pearly whites was simple.
Those were the days. Now I'm a working mom of three. That means I have three mouths — sixty other teeth besides my own — to brush every day. Brushing my first baby's handful of emerging chompers was a different animal than this whole get-three-kids-ready-every-single-morning thing.
Foster Good Tooth-Brushing Habits
Keeping my kids' teeth and gums healthy, especially making sure they're protected from cavities, is crucial. But if I've learned anything in my ten years as a mom, it's that anything that feels like a chore or a snooze-fest to my kids is going to become a hassle for me. So if I want to make good dental hygiene a habit, I need my kids to actually enjoy brushing their teeth.
A great-tasting, cavity-fighting toothpaste and a toothbrush designed specifically for kids is key — and our hands-down favorites are Oral B Kids Electric Toothbrushes and Crest Kids Enamel + Cavity Protection toothpaste. The toothpaste tastes great and the toothbrushes come in a variety of fun Disney and Marvel characters.
When It Comes To Toothpaste, Go For 24-Hour Protection
Crest Kids Enamel + Cavity Protection is designed for kids ages 6 and up whose adult teeth are coming in, so it's perfect for my school-age children. It comes in a strawberry flavor that my kids love, and it rebuilds tooth density for stronger teeth, which I love!
Not only does this yummy toothpaste encourage my kids to brush long enough to sweep away any plaque build-up; Crest Kids Enamel + Cavity Protection's advanced formula creates a 24-hour enamel shield, protecting their teeth from sugars and acids long after they've left the sink.
Lure Them With Fun Toothbrushes
The other piece of my "Tired Veteran Mom's Magic Combo for Dental Hygiene Happiness" (I admit the name could use a little workshopping) is Oral B Kids electric toothbrushes. Their extra-soft bristles and small brush heads are designed for little mouths. These dentist-inspired brushes do the best possible job keeping my children's teeth and gums clear of plaque and debris.
Not to mention, they're adorable! My kids are conquering cavities alongside Spiderman and Star Wars The Mandalorian right now, and there are tons of other choices like Disney Princesses, Disney's Frozen and even MARVEL! What kid wouldn't want the Hulk hanging out on their bathroom counter, ready to help them save their teeth from the dangers of plaque?
We use the rechargeable version because I'm not the kind of mom who is always going to remember to put toothbrush batteries on the shopping list, and using a — gasp! — REGULAR TOOTHBRUSH is absolutely "not fun even a little bit" according to my six-year-old. We have to plug in — we can't risk a dead battery.
Use Smart Technology
Oral-B Kids electric toothbrushes have a built-in 2-minute timer, but most of the time, we grab the iPad and fire up the free Oral-B Disney Magic Timer app. It encourages my kids to brush for the full two minutes recommended by their dentist. Even my too-cool-for-school third grader enjoys brushing alongside our favorite Disney characters, revealing cool pictures as we go. (But don't tell his classmates.)
The key to smooth mornings, drama-free bedtimes, and glowing reports at the dentist's office is simple: Brushing has to be fun! I feel confident entrusting my kids' teeth to Crest and Oral B. They've incorporated characters my kids love and created an advanced toothpaste that actually tastes good. This dynamic duo is helping me instill habits in my kids that will set them up for a lifetime of healthy teeth. Together, we are conquering cavities, and I think we make a super team.