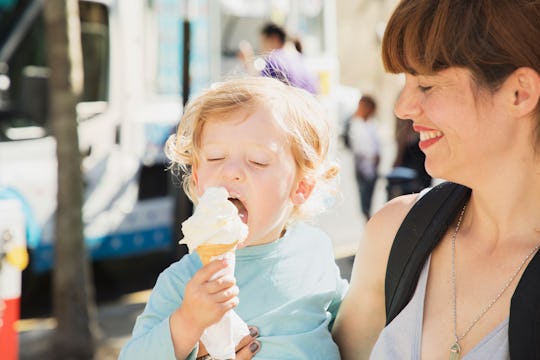 Betsie Van der Meer/DigitalVision/Getty Images
25 Toddler Date Ideas For When There's A New Baby In The House
From art studios to trampoline parks, there's plenty of one-on-one time to be had with your toddler.
Bringing a new baby home is exciting. But for toddlers, sometimes bringing a new baby home can be overwhelming — they're loud, they can't do anything, and they take a lot of parental attention that used to be lavished on them. That's why one-on-one toddler "dates" can be so crucial in this time.
Here's what I've observed in my own, limited experience: when it comes to getting a toddler on board with a new baby, very often it boils down to two key factors...
Let them know they're just as special to you as they've always been
Show them that being the older sibling is cool by letting them have "special privileges" — things a baby can't do!
"Dates" are a great way to let them feel this, especially, if it can be solo time with just one parent. I've also chosen activities that can be "layered." In many cases, you could do a bunch of these one-on-one activities in one outing. I've also tried to acknowledge the fact that cost, location, and lack of infant-care might limit one's options, so there are activities that can be done at home during an infant nap as well as fun parent/child outings.
Having a new baby means having another person to love. But sometimes it's a good idea to take a step back to make sure your toddler is feeling the love, too.
Let this be a jumping off point for you and your little one. Enjoy!