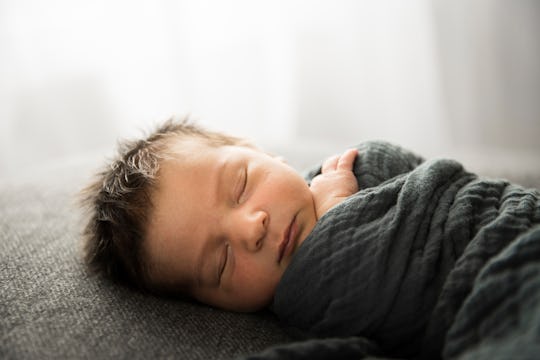 Cavan Images/Cavan/Getty Images
The Truth Behind 6 Old Wives' Tales About Late Babies
Remember, 40 weeks of pregnancy is an estimate, not a promise.
Practically as soon as the words "having a baby" come out of your mouth, you'll start hearing advice and stories about when to conceive, how to get the gender you want, what certain pregnancy symptoms mean, and more. As labor approaches, you'll even start hearing old wives' tales about late babies. If you're overdue and desperate to get things going, some of these wild remedies and theories may even start to sound plausible, but unfortunately, they're probably not.
For pretty much everything in life, there is someone who knows someone whose cousin's best friend's sister did something and ended up getting a certain result out of it. Somewhere along the way, random stories like these start to gain traction and get warped out of context like a bad game of telephone. Eventually, it seems like everyone has heard some variation of the story, which somehow adds authority to it, even if common sense would tell you otherwise. These stories are old wives' tales.
Old wives' tales are very present when it comes to trying to conceive, pregnancy, and labor/delivery. One woman had heartburn during pregnancy and went on to have a baby with lots of hair, and suddenly it's a rule. The reason these tales are so prevalent in pregnancy is that even though science can tell you so much about your growing baby, it's not at a point where it can accurately tell you your exact due date, what your baby will actually look like, or how long labor will last. Every pregnancy and birth story is different, which means moms-to-be rely on stories of other women's experiences to help them predict their own fate. If it's looking like you're going to have a late baby, you might be at the point where you'll believe any story you hear, no matter how outlandish it may seem. So, to save you some time and to ease your mind a bit, here are some common old wives' tales about late babies, as well as the actual science behind them.
Old wives' tales are certainly fun, but they should be taken with a grain of salt (especially by hormonal moms-to-be who are really tired of being pregnant). Your late baby's temperament, gender, and entrance into the world are based entirely on biology, not the moon or a bumpy back road somewhere. So, if you're not-so-patiently waiting for your baby to arrive, put your swollen feet up, relax, and have some pineapple (not because it'll speed things up, just because it's delicious).