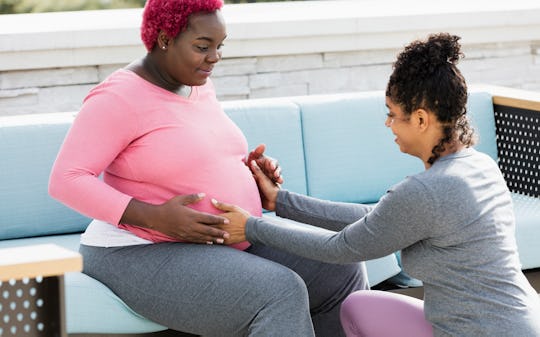 kali9/E+/Getty Images
7 Signs Your Baby Has Dropped & Is On The Way
So maybe go ahead and pack that hospital bag.
You're coming to the end of your pregnancy, and you've just about had it with the heartburn and heavy breathing. You've been crossing off the days on your calendar, your hospital bag is packed — but how do you know if your body is ready for the main event? One possible sign that you're getting ready to go into labor is that your baby has dropped, and luckily, there are some signs to look for.
As your third trimester of pregnancy comes to a close, the baby will "drop" lower into the pelvis. Kecia Gaither, director of perinatal services at NYC Health & Hospitals/Lincoln, tells Romper, "'Baby dropping' refers specifically to a term called 'lightening.' Lightening is an indication that labor will be approaching, in due course, as your baby's head descends into the pelvis, engaged within the pubic bones."
Most first-time moms will find that their baby drops somewhere around the last two weeks of their pregnancy, while moms who have delivered previously may not feel it until labor is about to begin since their pelvis was already stretched during that first delivery.
If you're counting down the days until your little one arrives, you can look for some of these signs that your baby has dropped and that labor may be starting soon. Remember: feeling like your baby has dropped doesn't necessarily mean they'll be there the next day, but it's a pretty good indication that you're nearing the finish line. Enjoy your last few moments alone on the couch — things are about to get real.
Experts:
Kecia Gaither, MD, MPH, FACOG, double-board certified in OB-GYN and Maternal Fetal Medicine, Director of Perinatal Services at NYC Health & Hospitals/Lincoln
This article was originally published on