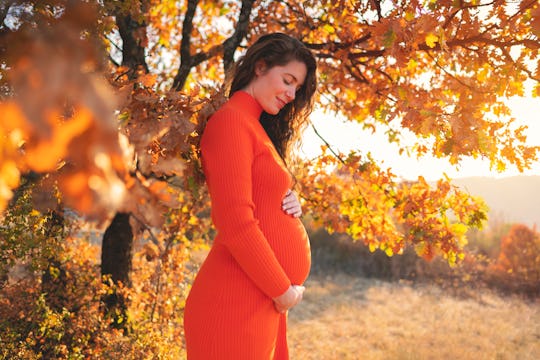 SrdjanPav/E+/Getty Images
Stock Up On These Fall Maternity Clothes To Last You Through The Winter
Because nobody wants to keep buying pants.
With autumn in full swing, it's finally time to bust out your cute earthy-tones, flannel scarves, and cozy sweaters. If you're expecting, your changing body is the perfect excuse to stock up on some of the best fall pieces for pregnant women this year. Sure, you could wear the same maternity leggings you've been wearing up until this point, but who can say no to a new pair of skinny jeans?
For a lot of women, myself included, pregnancy does not bring about the elusive "glow" everyone speaks of. Instead, it can sometimes seem like you look exactly how you feel, which in my case was utterly exhausted. While there is no magic solution for the lack of energy, a new outfit or some pretty accessories can help boost your confidence a bit. Fall clothes are especially excellent for this, because not only are they cute, but they also tend to be incredibly comfortable.
If the idea of investing a lot into one season's worth of clothes makes you skeptical, remember that a lot of fall clothes easily transition into winter, and some things, like accessories and jackets, can still be worn after you've had the baby. So, if you're ready to get started on your shopping, here are some of the best fall pieces for pregnant women this year.
We only include products that have been independently selected by Romper's editorial team. However, we may receive a portion of sales if you purchase a product through a link in this article.
Sure, shopping for maternity clothes isn't quite as fun as shopping for clothes in your regular size, but you can still enjoy the cozy fall styles no matter where you are in pregnancy. So, stock up on your favorite pieces and then get yourself a hot apple cider to sip on as you watch the leaves turn.