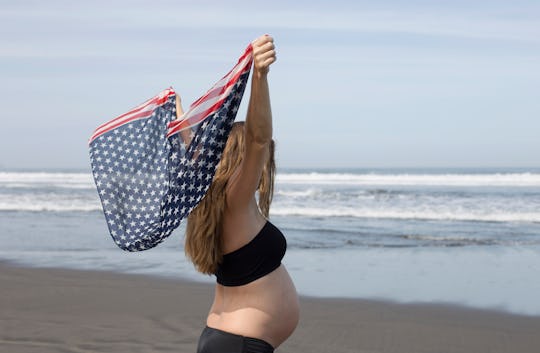 Paula Sierra, Getty images
Can Babies Hear Fireworks In The Womb? Here's What Experts Say
You might feel your little one jump after the boom.
by Elizabeth Helen Spencer and Lindsay E. Mack
Being pregnant over the summer is tough — the heat feels extra stifling, you're sweating before you even step outside, and all the summer parties that used to be fun are now accompanied by a long list of concerns and forbidden items, including alcohol, unsafe foods, and maybe even loud noises. With so many of these things prevalent at Fourth of July celebrations, you're probably wondering, can babies hear fireworks in the womb? And more importantly, can those massive booms actually harm their hearing?
Can fireworks damage my unborn baby's ears?
According to the American College of Obstetricians and Gynecologists (ACOG), by 25 weeks gestation, you might feel your baby jump when they're startled by a loud noise, like fireworks, but this isn't harmful on its own. If you ask your OB-GYN, chances are they'll tell you to enjoy all the fireworks you want this year, as long as you're doing so from a safe distance.
"We have no data to suggest that pregnant people should avoid fireworks shows," says Dr. Temeka Zore, M.D., reproductive endocrinologist and OB-GYN at Spring Fertility, and Modern Fertility Medical Advisor. "In general, a fetus's ears are mostly developed by about 20 weeks of gestation and they can start responding to sounds by 24 weeks."
"It's not the same as having a newborn baby sitting on your lap," says Dr. Jessica Rubin, M.D., OB-GYN at Katz Women's Institute of Long Island Jewish Medical Center. "The baby is inside a fluid-filled sack, inside a thick-walled muscular uterus, inside a belly that's cushioned with fat and skin. There are so many layers of protection that filter out most of that sound. If it's really not to the point that the sound is distressing to the woman herself, then the chance that it could have any impact on her baby would be minuscule," she explains.
Can loud noises harm a fetus?
It's possible, but you probably don't have to worry about it happening from a fireworks display or two. The only time noise might present a threat to your baby's hearing is if you work in a loud environment, according to the Centers for Disease Control and Prevention (CDC). The agency says "very loud noises may be able to damage your baby's hearing," and that if you're pregnant, the only way to prevent this damage is to avoid loud noises altogether.
"Some experts think that pregnant women should not be routinely around noise louder than 115 decibels," says the CDC's website. "This is roughly as loud as a chainsaw. Avoid areas that are louder than 115 decibels during pregnancy."
The key word here seems to be "routinely," and the experts who spoke to Romper had no concerns about pregnant people attending fireworks shows. If you have any questions or concerns about what counts as "routine" exposure, talk to your healthcare provider.
How loud are fireworks shows?
It depends on what type of fireworks you're watching. "Professional display fireworks, like those used in large community celebrations, are louder than backyard consumer fireworks that you can purchase for at home celebrations. Some consumer fireworks are marketed for their colors and effects, while others are marketed to maximize the boom," Julie L. Heckman, Executive Director of the American Pyrotechnics Association (APA), tells Romper in an email. Take care if your backyard celebration includes any particularly loud additions.
The next thing to consider is your distance from the fireworks show. Even fireworks you pick up at the grocery store, if you're standing three feet away, can be as loud as 150 decibels, according to the American Speech Language Hearing Association (ASLHA). The organization says any sound louder than 85 decibels could lead to irreversible hearing damage. If you're concerned about your own hearing, the ASLHA recommends popping in some ear plugs, or watching a community fireworks show from a comfortable distance.
Ultimately, the most important thing for pregnant people to do this Fourth of July is just not light the fireworks themselves, says Rubin. "If you're not a professional, the device could explode inappropriately. You definitely want to make sure that you're far enough away that nothing could hit you. But I think going to a community or city fireworks display where they are far from the actual devices being detonated, I wouldn't have any concerns."
So, grab some folding chairs or a picnic blanket and head to your nearest fireworks show. Who knows, your little one could just sleep through the whole thing.
Experts:
Dr. Temeka Zore, M.D., reproductive endocrinologist and OB-GYN at Spring Fertility, and Modern Fertility Medical Advisor
Dr. Jessica Rubin, M.D., OB-GYN at Katz Women's Institute of Long Island Jewish Medical Center
Julie L. Heckman, Executive Director of the American Pyrotechnics Association (APA)
This article was originally published on