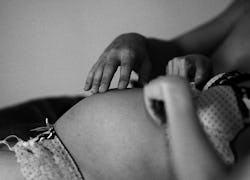 OK, Let's Talk About Swallowing & Oral Sex During Pregnancy
Terence Toh Chin Eng / EyeEm
Major bonus: it's a little easier to get around the bump when you have sex this way.
Sex during pregnancy can be a dreaded affair for a variety of reasons. A giant, bowling ball-shaped belly can make it hard to find a comfortable position, and a bout of morning sickness can certainly ruin a romp. Thankfully, oral sex during pregnancy is usually a more comfortable and well-tolerated way to get it on when you're expecting. But if this is your first time with a baby bump, you may have some questions about certain safety aspects of the act like swallowing semen while pregnant, and just how safe oral sex is during pregnancy.
Provided your doctor has given you the green light, you can typically continue having sex with penetration well into your third trimester. And you may want to, given that a woman's sex drive can increase drastically during pregnancy, according to The Bump. But not everyone is so keen on the idea of getting down with a burgeoning baby bump. Be it fears, insecurities, or medical issues, penetration is not always an option during those nine months. Oral sex, however, allows you to satisfy your sexual desires without worries.
But as with so many things during pregnancy, you probably have a question or two about giving and receiving oral sex while pregnant. If you're considering going down on a partner during your pregnancy (or making them go down on you because d*mn it, you have needs too), here are five things to know about oral sex during pregnancy.
Experts:
Paula Anderson, M.D., board-certified OB-GYN
Dr. Monica Grover, sexual health and wellness specialist, gynecologist at VSPOT Medi Spa
Dainis Graveris, certified sex educator, relationship expert at SexualAlpha
This article was originally published on