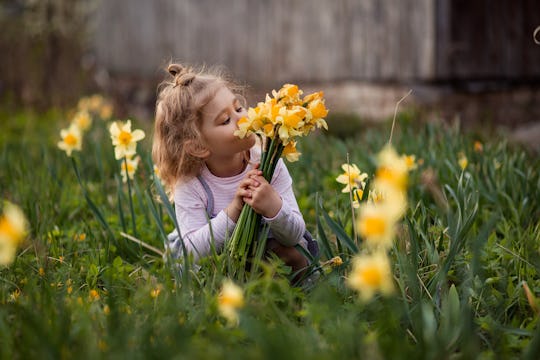 Shutterstock
40 Fierce, Fresh, Beautiful Names For Your March Baby
Names inspired by a month on the cusp of seasons.
Representing the start of springtime and fresh beginnings, the month of March is a beautiful time to be born. In fact, there's so much inspiration when choosing names for March babies, you'll never run out of ideas. We've rounded up some some of the coolest names inspired by this blustery, but magical month.
The first day of spring is celebrated around March 20, according to the Farmer's Almanac. (Fun fact: the start of spring is sometimes celebrated on March 21 or even the 19, because seasons don't have an even number of days.) This alone provides you with tons of inspiration — consider a name related to the blooming flowers associated with this season. Even if it's still technically pretty darn cold where you live, this time of year heralds the beauty and blossoms of warmer days ahead.
Or perhaps you want to draw inspiration from March's most iconic holiday — St. Patrick's Day. Or you want to lean into your baby's zodiac sign; there are two in March, Pisces (Feb. 19 to March 20) and Aries (March 21 to April 19). You could also go with the month's birthstone (aquamarine), birth flowers (daffodil), or just focus on the fact that this is a month of winter and spring that comes in like a lion and out like a lamb.
No matter the reason, there are plenty of March baby names to choose from in this list below.
Whatever name you choose for a baby born in March, it'll be the perfect one for your springtime child.
This article was originally published on