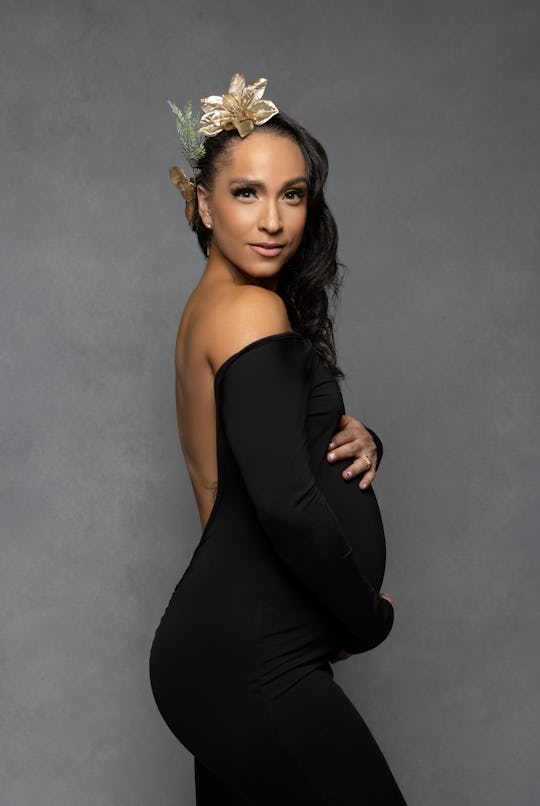 Candance Howe Studios
Robin Arzon Is Changing The Narrative Around Pregnancy & Exercise
Now in her third trimester, the popular Peloton instructor is challenging some outdated beliefs.
In a coordinating green sports bra, shorts, and hair band, Robin Arzón, the VP of fitness programming and head instructor at Peloton, leads one of her latest strength classes. She casually lifts heavy weights, sprinkles in her motivational lines like "now is when we decide how badly we want this" and dances despite leading an intense exercise class. "Are you lifting enough weights?" she asks at one point. Even though I watch her on my tiny cellphone, I quickly grab heavier dumbbells like Arzón is in the room.
This was not my first class with Arzón, one of my favorite Peloton instructors. There is something about her bright clothes, deep, distinct laugh, mantras about boundaries, and '90s hip-hop soundtrack that continue to pull me back in.
When I found out I'd be interviewing her for this article, my stomach knotted up. So to prepare for my call with her, I did what I often do to calm my nerves and boost my confidence: one of her classes.
Over 10 years ago, Arzón left her job as a corporate litigator to explore health and wellness. Since joining Peloton in 2014, she's become their best-known instructor, amassing 1 million Instagram followers. She's written two children's books (Strong Mama and Strong Baby) in recent years and is the founder of a "lifestyle membership club" called Swagger Society.
As Arzón deadlifts on my screen in the advanced strength class, her demeanor is the same as her other classes but there's one difference. Arzón's pregnant belly is visible as she is now well into the third trimester of her second pregnancy. (Her first child, Athena Amelia, was born in 2021).
Arzón is, of course, not the first famous female athlete to have a baby. In recent years, we've watched women like Serena Williams and Alex Morgan return to their sport postpartum. But it's still a rarity to watch an elite athlete like Arzón regularly exercise as their pregnancy progresses. "Feeling great. It's flying by," she says shortly after we connect over the phone. Her no-big-deal tone belies what a shift this is in society's attitude toward pregnancy and exercise.
Arzón is an anomaly even though the benefits of exercise during pregnancy for both mother and baby are well-established. The American College of Obstetrics and Gynecology (ACOG) recommends that pregnant individuals get 150 minutes of medium-intensity aerobic activity each week, provided that person has no medical conditions and has been cleared by their provider. Although ACOG provides less clarity for high-intensity exercise, women who engage in vigorous physical activity before pregnancy can continue while pregnant.
We are not weak but we are deserving of ease. Just because I can lift the barbell over my head doesn't mean that I can't then also vocalize that I need help, need assistance, need rest,
But outdated notions surrounding pregnancy and exercise still remain. When I was pregnant with my first daughter seven years ago, my doctor told me not to lift weights above my head, which scared me even though her instructions made no sense. (She later admitted she'd never lifted weights before.)
Even Arzón is not immune to negativity. During her first pregnancy, some of her followers questioned whether she was working out too much or if she should be working out at all. "It enrages me," she says. Lucky for us, she tunes out most of it. "I really believe in focusing on what you can do rather than on what you can't do," Arzón says.
Arzón trains, including lifting heavy and cycling, six days a week for two hours a day and says she's stronger than she's ever been. Although her workouts look a little different, "I would say 95% of what I do is what I would do before and after pregnancy."
When determining which workouts to do during pregnancy, she read relevant research papers and consulted with her medical provider. "I really listen to my intuition," Arzón says. "I've gotten myself this far and I trust the voice that is in between my ears and if something doesn't make sense, I ask clarifying questions. I don't take anybody's word as gospel. I approach every area of my life like that."
Because of Arzón's ability to trust herself, we trust her. She coached me through cycling classes during my pregnancy with my second daughter, who is now 2 1/2, helping me to work through the misinformation I'd been told the first time around and decide what was best for my body.
When I ask her about what false narratives we need to change around pregnancy and exercise, she replies, "So many. We are not fragile. We are not weak but we are deserving of ease. I think that is where the conversation requires more nuance. Just because I can lift the barbell over my head doesn't mean that I can't then also vocalize that I need help, need assistance, need rest," says Arzón. As she nears the birth of her second child, she knows she'll soon need to practice this skill.
"I'm such an independent person that accepting help, accepting care, accepting softness — I had to learn it. I had to learn how to do it and realize that the acceptance of care enabled strength on the other side of it. So that was a big lesson and it's going to be a lesson that I continue to learn," says Arzón.
Arzón can't, of course, predict what her upcoming childbirth will be like, but she knows movement is critical for her mental health. Luckily, she learned a lot from her postpartum experience with Athena, now 2, which "was a wake-up call."
"I had to really reframe. It's so much easier for me to go hard rather than slowly," Arzón says. "That slowing down is also a strength and that is a cool reframe that I had for myself. Now I think there's more nuance to how I approach movement. On the days where I feel like I have to slow down, I know that's OK, and giving myself that permission has been pretty freeing."
Katie C. Reilly is a writer and attorney based in Oakland, CA. She has previously written for Romper about how to prep your relationship for a baby. Her writing focuses on women's health, parenting, and mental health. She has been published in The New York Times Magazine, Washington Post, Guardian, and Newsweek, among other publications.