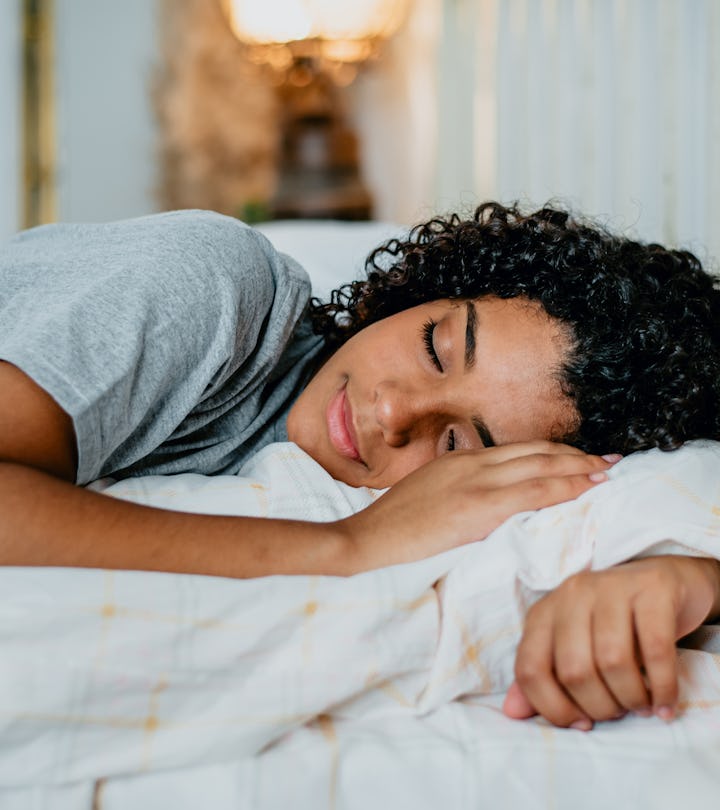 andreswd/E+/Getty Images
7 Things Pregnancy Dreams Can Mean If You're Not Pregnant
It depends upon the dreamer.
Maybe it's a dream that dramatically involves the process of giving birth itself, or maybe you're just acutely aware of the fact that a baby is on the way beneath your growing bump. Whatever the case, it isn't a real pregnancy, at least not in your waking life. So what do pregnancy dreams mean when you're not pregnant? There's no reason to rush to the drugstore for a pregnancy test, because it turns out, dreams of giving birth when not pregnant are not uncommon.
Depending on your current life situation, these real-seeming dreams can kind of freak you out. But these dreams aren't necessarily your unconscious mind trying to make a real pregnancy known.
"Pregnancy dreams can be literal or metaphorical — even men dream of being pregnant," Delphi Ellis, a dream interpreter, tells Romper.
For something that you deal with on a nightly basis for most of your life, dreams never totally lose their sense of otherworldly weirdness. Even if you know that you didn't just give birth to twins in the back of a movie theater, the feelings that these dreams drag up can be so real. So if you've been thrown for a loop by a pregnancy dream recently, check out these seven potential things that dreams of giving birth when not pregnant may mean. You can rest assured that plenty of other people are just as baffled by dreams as you are, and they've put a lot of time and effort into understanding these weird nighttime visions.
The interpretation is up to you, especially in terms of the emotional response. "Please pay attention to your feelings and actions that occurred in the dream for a better understanding of the dream's message," says Cummins. Basically, dreams about pregnancy can have whatever meaning you decide.
Sources interviewed:
Delphi Ellis, a dream interpreter
Dr. Michael Lennox, a dream expert
Pamela Cummins, expert dream interpreter
This article was originally published on