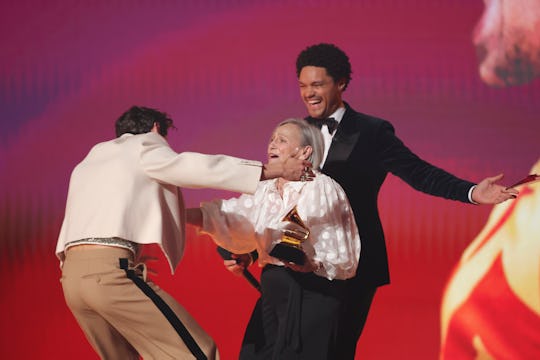 Christopher Polk/Variety/Getty Images
Harry Styles Running To Hug His 78-Year-Old Super Fan At The Grammys Will Make Your Day
Their sweet hug really did everyone in.
When Harry Styles won Album of the Year at the 2023 Grammys on Sunday night for Harry's House, there was one person who was perhaps even more excited than the artist himself. A 78-year-old grandma named Reina, who happens to be a Harry Styles super fan. And who was asked to announce his big win on stage. She might not have won any awards herself but she certainly won all of our hearts.
Sudbury, Ontario native Reina was invited to the Grammys after her granddaughter shared a video of her explaining why she is Harry Styles' number one fan. "Above being talented, above giving a great show, above being good looking, he's everything," Reina said in the video. "He's still humble. He's still a nice person. To me, that's a star."
Reina joined other super fans on stage at the Grammys on Sunday to find out who would win the coveted Album of the Year award, and when host Trevor Noah looked at the envelope, he walked to Reina to let her announce it. She screamed "Harry Styles!" and got emotional. More emotional still when Styles came on stage and immediately went to her for a huge hug.
Their sweet moment ended up being hailed on Twitter as the highlight of the night. Not just because Styles showed such genuine warmth to Reina with his big embrace. Fans were buoyed by the thought of still being a super fan at that age.
Some other fans were initially less than impressed with the Grammys' decision to bring artists' super fans on stage for the big award, but that lovely moment between Reina and Harry Styles changed their minds completely.
It was certainly a special weekend for Reina, who flew to Los Angeles with her granddaughter to see Styles in concert, both of them dressed in colorful boas and sunglasses. She was also gifted with a huge pile of Harry Styles merchandise by the man himself as a show of gratitude for her unwavering support, including t-shirts, hats, and pretty much anything else you can imagine.
In other words, Reina was the true winner of the Grammys this weekend. An inspiration to others, and a reminder that you can be a super fan no matter your age.