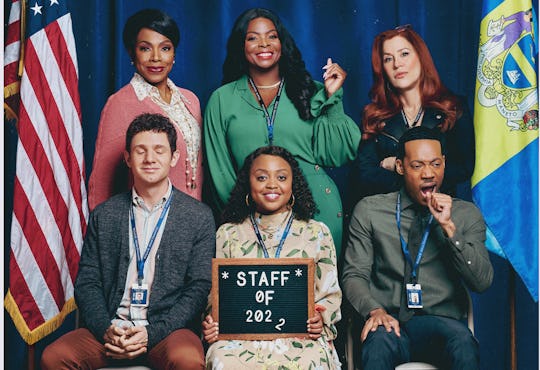 ABC
Abbott Elementary Is Helping Provide Free Books To Students In Underfunded Schools
The hit ABC series is making a real-life impact in our communities.
You've probably been hearing a lot about ABC's new comedy series Abbott Elementary. The mockumentary style sitcom created by Quinta Brunson follows a group of teachers and a slightly-deaf principal at an elementary public school in Philadelphia. It's a bit reminiscent of The Office (just in a school) and partially This Is Us (with the drama angle), the series gives a real-world look into the day-to-day lives of our society's most under-appreciated and underfunded public servants.
Because yes, teaching is a public service worthy of all the flowers. Season 1 premiered on ABC in December 2021 and became the network's first comedy to quadruple ratings since its original airing last month, Deadline reported. As a matter of fact, the series has become so popular, it's making a real-life impact outside in our communities with a historical contribution to our kids through a partnership with Scholastic.
Abbott Elementary is helping provide books to underfunded schools
ABC has partnered with Scholastic to provide underfunded schools with free book fairs, according to Variety. Between March 14 to 18, free book fairs will be hosted at seven Title 1 schools. Each student will be able to get two free books and each teacher will receive 10.
"Our mission at Scholastic has always been to support teachers and provide them with the resources and materials needed to build warm, positive classroom experiences for their students," Billy DiMichele, senior vice president of creative development at Scholastic, said in a statement to Variety. "That's why we are so thrilled to team up with ABC and 'Abbott Elementary' — a show dedicated to uplifting educators and reflecting their experiences — to put books into the classrooms that need them most and get kids excited about reading and learning."
ABC also brought back its Traveling Teacher's Lounge initiative. The lounge provides teachers with classroom supplies, breakfast, Scholastic books and merchandise from the show. The first round of lounges began in January and wraps up in Los Angeles on March 22.
If this initiative doesn't prove how family-oriented Abbott Elementary is, we don't know what it will be! But is Abbot Elementary a show for the entire family to enjoy? And how can you watch it? Here's everything else you need to know.
Is Abbott Elementary appropriate for kids?
In a short answer, yes for the most part. Common Sense Media, a nonprofit organization that reviews movies, TV shows, and other sources of entertainment for parents, recommends that Abbott Elementary is best for kids 12 and older.
Common Sense Media notes that some of the show's highlights include demonstration of positive role models, positive messages, and diverse representation. The diversity is largely due to its talented cast, which includes Janelle James, Chris Perfetti, Lisa Ann Walter, Sheryl Lee Ralph, Tyler James Williams, and William Stanford Davis.
While the series is rated TV-PG, Common Sense Media notes that parents should be aware of some mild profanity like "hell" and "a**." Age Rating JuJu's parents' guide also noted "some violence is present in the series," but not enough to scare the kids.
You can check out the trailer below to get more of a sense of the tone and humor you'll find in Abbott Elementary.
Considering that it falls under the "office humor" genre and deals with heavier subjects like underfunded education, but takes place in a school, Abbott Elementary is overall a green light for older kids and pre-teens.
You can stream Abbott Elementary and watch it on TV
New episodes of Abbott Elementary premiere Tuesdays at 9 p.m. on ABC. After their TV premiere, episodes can also be streamed on Hulu.
ABC recently announced that the show announced it will be returning on March 22 to close out its first season.
This article was originally published on