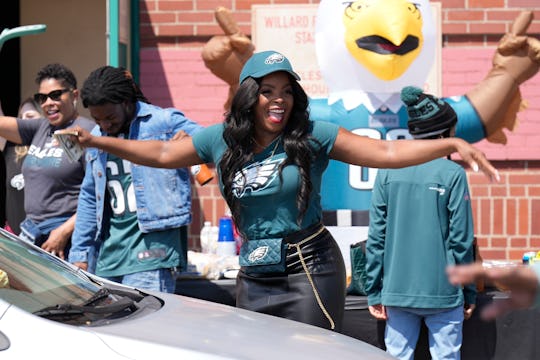 ABC/Scott Everett White
Abbott Elementary Season 2 Has A New Trailer & It's Intense!
School is back in session Sept. 21.
Sharpen your pencils because Emmy-winning Abbott Elementary is returning for Season 2 this month! Mark your calendars: the hit show premieres on Sept. 21 on ABC, and will be available for streaming on Hulu the day after.
The cast of Abbott Elementary works harder than Principal Ava does on her TikTok videos (and that's saying something!), so it's no surprise that ABC decided to renew the hit sitcom for another season. The show was created and written by Quinta Brunson, who also stars as Janine Teagues, a new teacher who tries hard to make school better for her students in the Philadelphia-based elementary school with little resources.
The mockumentary style show follows along the lives of other teachers, including Melissa Schemmenti (Lisa Ann Walter), Barbara Howard (Sheryl Lee Ralph), Jacob Hill (Chris Perfetti), and substitute Gregory Eddie (Tyler James Williams). It also stars the self-absorbed and hilarious Principal Ava Coleman (Janelle James). According to Deadline, the workplace comedy is the first ABC comedy debut to quadruple ratings after 35 days of multi-platform viewing.
So, what will Season 2 be about? Here's what we know so far.
There is a new trailer of Season 2!
"Welcome back, dorks!" says Principal Ava in a new trailer for Abbott Elementary Season 2 released yesterday, and it looks so good!
In typical Jeanine fashion, she tries to get staff excited about an "Abbott Elementary Development Mixer," but it's a lost cause. Gregory practices his stern teacher voice with a little help from Mr. Johnson, and Principal Ava tells Melissa she needs to take on an extra 10 students in her third grade class — which leads to her punching the head off of a cardboard sign. It's intense!
Watch the new trailer here.
ABC shared new details of Season 2, Episode 1.
In early September, ABC revealed new details about Season 2, Episode 1, "Development Day."
"The teachers are back at Willard R. Abbott Public School for development week, a time to prepare for the upcoming year before the students' first day of school," stated the official logline.
"Post-breakup, Janine is determined to start the year off right and leave her problems at home," it continues. "With this new outlook, she takes on organizing the faculty mixer and announces a special celebrity surprise she planned for the kids' first day. Meanwhile, Ava runs a side hustle out of the school parking lot and Gregory, now a full-time teacher, is in over his head with the curriculum."
This episode will premiere at 9 p.m. EST on Sept. 21 on ABC and will be available on Hulu Sept. 22.
Two Season 2 teasers are out now.
The first teaser for Abbott Elementary Season 2 was released Aug. 17 and shows the first day of school. Principal Coleman and the five teachers in the main cast show up looking fresh and ready to go. As they walk, each one shows off their unique personalities.
Barbara wears a buttoned-up blue sweater and tosses an apple in the air. Janine is wearing a plaid fall dress and shows off her decorated "Abbott!" binder. Melissa is wearing her go-to leather and eating a sandwich. Ava is in a colorful top and swinging keys that seem to sparkle. Gregory is wearing a buttoned-up grey sweater and sharpening a pencil. And Jacob is wearing a blazer over a turtleneck and tosses his briefcase in the air.
When the group gets to the school doors though, they can't get in. "These new keys I made must be too thick," Ava says as she attempts to unlock the door. "I blame the locks, honestly."
In true Janine fashion, she says, "Well, what if we take this time to have a heartfelt discussion about what we're excited about in the new year."
"Nope!" Melissa responds, as they all turn around and walk away.
At the very end, Mr. Johnson is shown mopping the floors and singing along to music he's listening to on his headphones. He's hilariously oblivious to the staff trying to get his attention through the window to let them in.
Another teaser was posted to Instagram on Sept. 2, this time showing what the teachers go through in Development Week.
"People think school starts when the kids get here," Janine says in the teaser. "But it starts at Development Week. It's the calm before the storm."
"It's very Zen actually," she adds, before showing a chaotic montage. (Parents can definitely relate!)
Abbott Elementary Season 2 will have a full 22 episodes.
Season 2 of Abbott Elementary will have 22 episodes, per Deadline, as it is the network's #1 comedy show for 18-49-year-olds. For comparison, Season 1 only had 13 episodes.
The outlet also reported from the San Diego Comic Con in July, where Brunson, who was nominated for three Emmys for Abbott, said in a panel, "We spent a lot of the first season showing what this show is capable of. … Now we get to have some fun. We've done all the building, and now we get to have some of these fun bottle episodes."
ABC announced the renewal of Season 2 via a note from the desk of Principal Coleman posted to the @AbbottElemABC Twitter account on March 14. The note, which is addressed to "Faculty and Students (aka My Fans)," reads: "The camera crew I hired to showcase all that I've made happen at our beautiful school thinks I'm a star. I mean, are we surprised? No, we're not :) With that said, it is with great pleasure that I share they'll be returning for the 2022-2023 school year!"
It goes on to say you can support teachers by visiting DonorsChoose.org (or sending Principal Ava spa credits and gift cards over $100).
You can stream Abbott Elementary Season 1 right now.
While you're waiting patiently for Abbott Elementary Season 2 to premiere, you can watch Season 1 on ABC, Hulu., or HBO Max.
This article was originally published on