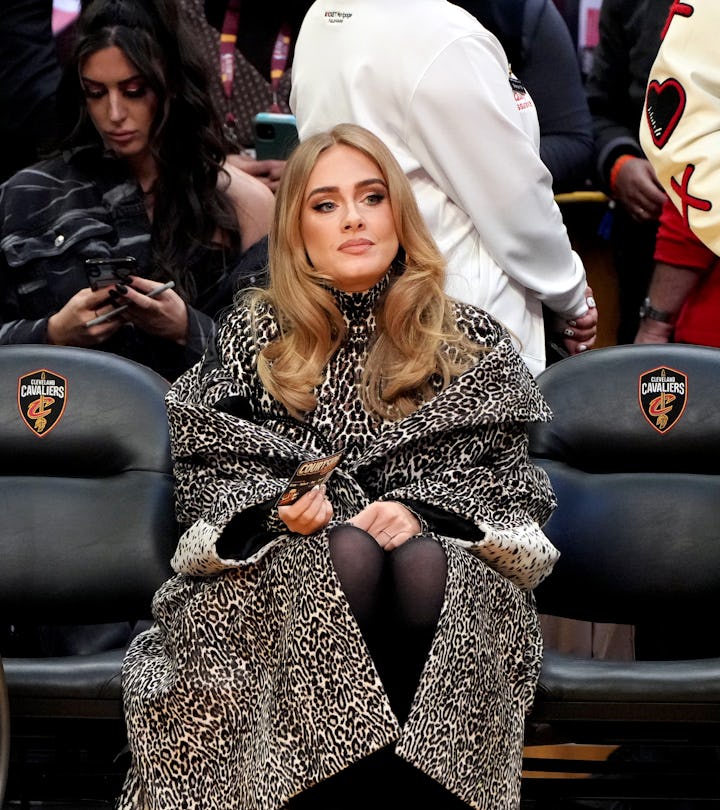 Kevin Mazur/Getty Images Sport/Getty Images
Adele Was Every Mom Telling Everyone "Shush!" & Enjoy Rihanna's Glory At The Super Bowl
Adele was at the Super Bowl for one reason only: Rihanna.
When it comes to major sporting events, celebrity watching is always going to be a fun, between-plays activity. Who's there? With whom? Where are they sitting? Do they look engaged? Excited? Of everyone we had a chance to see in the stand at Super Bowl LVII, our favorite — bar none — was Adele. As Rihanna took the stage, her first live performance since 2018, Adele sat calmly but imperiously — perfectly coiffed with her sunglasses on — and appeared to politely (but firmly) command silence with a simple utterance and elaborate wave of her hands. Adele, in short, was all of us.
The recent Grammy-winner's eyes remained forward at all times – obviously! She wasn't going to risk missing a single moment of RiRi's greatness. Her verbals wishes were unheard to television audiences. Her elaborate series of swishy, flippy hand gestures inscrutable. But taken together her meaning was crystal clear. It was a combination of several sentiments:
"You need to have more respect for this historic moment."
"I'm not going to yell, but everyone needs to shut up so I can enjoy this or there will be blood."
"This is literally the only reason I'm here so you need to settle down."
It was a treat.
Needless to say, Twitter went nuts.
"We are all Adele: I don't understand anything about the game, I'm not interested, SILENCE. We came to see Rihanna," tweeted @benacerd13 in Spanish.
"I need a live steam of @Adele watching Rihanna's half time show cause I know she was screaming just as loud as all of us #FentyBowl," joked @Natalieej11.
"Adele on standby until Rihanna," @allyparkour observed and, honestly, not one lie was told.
Perhaps @DragDollCo summed it up best.
(Indeed, Adele has said she was at the game pretty exclusively to see Rihanna, with Page Six reporting she told a fan "I'm going just for Rihanna. I don't give a flying f*ck.")
But not only is Adele every non-football fan who watched the Super Bowl just to see Rihanna's triumphant return to the stage, I can't help but feel she's every mom who needs one G-D minute to enjoy something nice. Who needs everyone to shut up, because she told them she needs them to shut up, just for a little while, so she can have this glorious religious experience just the way she pictured it. A mom who isn't going to yell, but she will incapacitate you if that's what it takes to get you to be quiet.
We see you, Adele. We see you and we feel seen by you in this glorious, highly memeable moment.