BACK TO WORK WORK WORK WORK WORK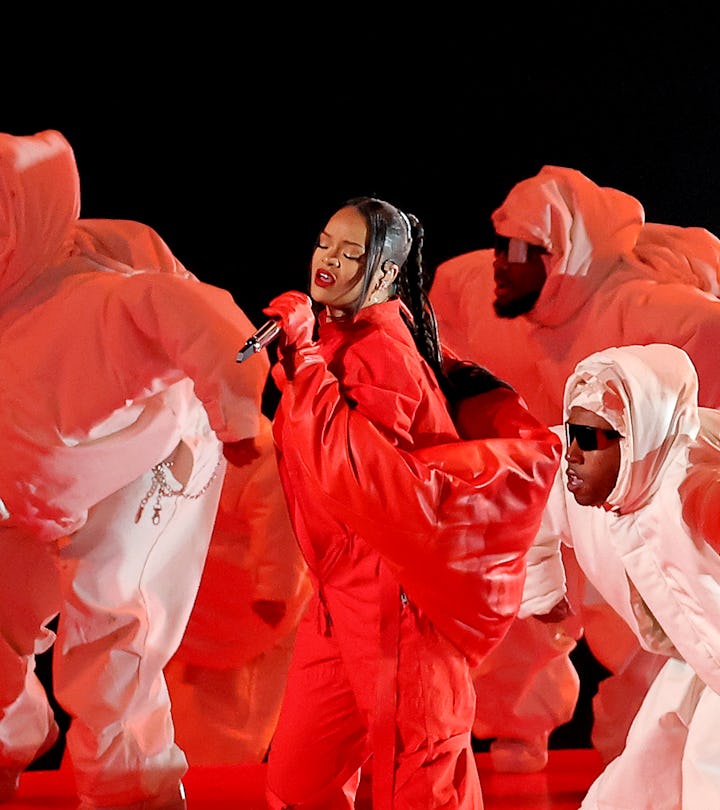 Mike Coppola/Getty Images Sport/Getty Images
She's Back, She's A Mom, And Even More Badass Than Before
Rihanna's Super Bowl performance proved she's not like a regular mom: she's a cool mom.
When returning back to work (work work work work) after having a baby, most folks, if they had their way, like to ease back in. Light lifts. Reduced hours, if they're lucky. Spend some time getting the lay of the land. But if you're Rihanna, performing at the Super Bowl for more than 100 million people is the way to go. Because she's f*cking Rihanna. We expect nothing less, but if this halftime show proved anything it's that Rihanna is back, and being a mom has made her even more of a badass.
Not that we had any doubt. But considering she hasn't performed live since 2018, we were curious to see what a 2023, post-pandemic, post-baby Rihana show would look like. It was, of course, amazing. From high flying antics on a platform high above the stadium (I would never, but I'm very glad Rhi was bold enough to allow us all to marvel) to a massive entourage of back-up dancers dressed in almost-blinding white costumes (perfectly offsetting the singer in her red majesty) to, perhaps, the most casual slay of the evening, touching up her makeup mid-performance (Fenty, naturally).
Adele, like all of us, understood. She knew she had to spiritually prepare and be ready to take it all in. The recent Grammy winner required silence.
We might have been waiting almost five years for this moment (again given the pandemic, baby, multiple business ventures, and life in general this is more than understandable), but it was worth it because from "Umbrella" to "B*tch Better Have My Money," to "Rude Boy" to "Only Girl in the World," Rihanna delivered all. her. hits. and I don't think any of us really, truly understood how much we needed that. The performance was grand but simple. A master class in "let the work speak for itself."
"Rihanna really just 'okay I guess I'll just play my little songs for y'all because you seem to like that' the #SuperBowl halftime show," observed Franklin Leonard on Twitter. "No guests. No stunts. Minimal choreography. Sublime self possession. Incredible."
Well.
While we didn't know it at the time, there was special guest. After much hullabaloo and speculation on Twitter ("Is that a bump?" "Is that just a run-of-the-mill postpartum belly?" "Is that the way her belt is sitting on her hips that's accentuating her mid-section?") a rep confirmed to The Hollywood Reporter that Rihanna is, indeed, pregnant with her second child. So she just absolutely destroyed it while pregnant with a not-even-one-year-old at home.
Moms are amazing, you guys, and we couldn't be more proud of Official Mom Club member Rihanna representing what we're capable of.