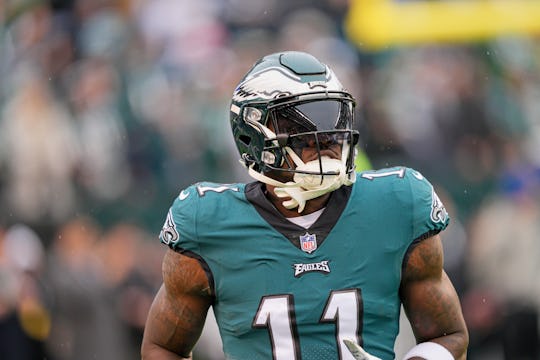 Icon Sportswire/Icon Sportswire/Getty Images
Philadelphia Eagles Wide Receiver A.J. Brown Says His Kids Give Him "Strength"
The NFL pro is a proud dad of two.
When Philadelphia Eagles wide receiver A.J. Brown heads to the Super Bowl, you know he'll bring everything he has with him — and his sweet children and longtime girlfriend will surely be cheering him on. The football pro is known for being a dedicated player on the field and devoted dad at home. Here's everything else you need to know about Brown's family.
A.J. Brown is a dedicated football player and dad to his kids.
As a wide receiver, Brown wants to get his hands dirty in the game as often as possible. "They throw the ball to me 100 times, I'm going to want it 101 times," Brown told ESPN. "Me personally, I just feel like I can change the game at any moment. Getting the ball often keeps you going, keeps you in a rhythm. It definitely puts you in a zone; you're locked in. Of course I want the ball."
While Brown is clearly a dedicated team player, he's just as dedicated to his life at home with his longtime girlfriend, whose identity he has not shared, and his two kids. "When I go home, I'm a father. When I'm in the building, I'm working," he told Josh Tolentino of the Philly Inquirer. "Once the kids go to bed, I do what I need to do to get ready for the game...Sleep is tough. It's been a tough 48 hours. But I'll make sure I get some rest before the game."
He welcomed his first child, daughter Jersee, in May 2020.
A.J. Brown and his girlfriend welcomed their first baby, daughter Jersee, in May 2020 when he was still playing for the Tennessee Titans. As she arrived during the early days of the pandemic, Brown opened up about being able to be "home and taking care of my baby girl" in an interview with NFL Total Access, although he did admit, "I'm not getting any sleep. But it will definitely be worth it."
Jersee is "the reason he keeps going" and helps him warm up for big games.
In 2021, Brown got emotional talking about how Jersee inspires him. "My little girl, she's amazing. She's the reason I'm still going today. I don't even have the words for it. She gives me strength, she's who I play for."
In 2022, 2-year-old Jersee hit the field with her dad to help him warm up and Brown could not have looked prouder to have her by his side.
His second child, a son named A.J. Brown Jr., was born in September 2022.
Brown and his girlfriend welcomed their second child, a son, in September 2022 and named him A.J. Brown Jr. The proud dad missed a few days of practice to be there for the birth of his son, and was still wearing his hospital bracelet when he came back to practice after A.J.'s birth. As for Jersee, Brown admitted in an interview that his daughter "couldn't stop smiling" she was so excited to be a big sister.
Bringing it all on the field and at home. A.J. Brown knows how to get it done.