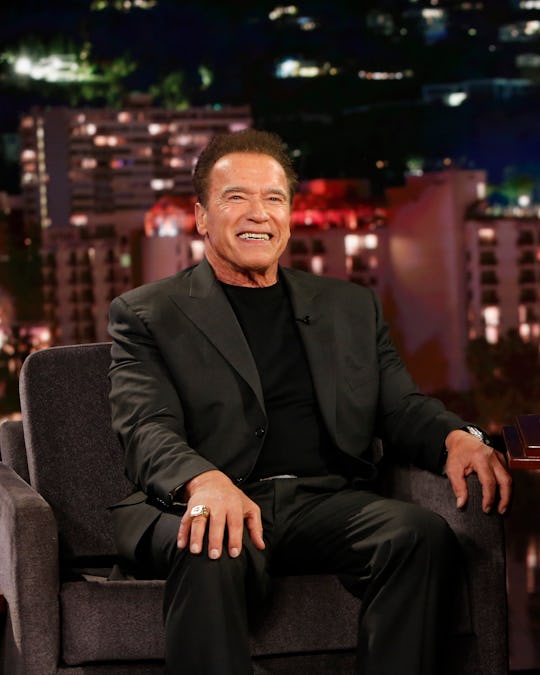 Randy Holmes/Disney General Entertainment Content/Getty Images
Arnold Schwazenegger Reveals Why He Once Threw His Son's Mattress In The Pool
"He had his nanny make his bed, which was not allowed."
Arnold Schwarzenegger grew up in the small town of Weiz, Austria in the '50s and '60s. Anyone who has watched the Netflix documentary Arnold knows that he grew up in a fairly strict household, with his parents Gustav and Aurelia Schwarzenegger giving him plenty of duties and chores to ensure he grew up with a good work ethic. So when the former Governor of California was raising his own children, it should perhaps come as no surprise that he was a strict parent as well. He even threw his son Patrick's mattress in the family pool once, and he told Jimmy Kimmel that he did it to teach his son an important lesson about responsibility.
The dad of five spoke to Kimmel on Monday night to promote his new book Be Useful: Seven Tools For Life, and shared a story about a time he felt he had to teach his son Patrick Schwarzenegger a lesson about being useful. "My son did not make his bed. He had his nanny make the bed, which was not allowed," Schwarzenegger explained. "So I came in one time and the bed was made so immaculately that I looked at it and I said, 'Patrick, did you do that?' And he said, 'No, I didn't.' So I grabbed the mattress, opened up the doors, and threw it off the balcony down into the swimming pool!"
"It gives an example," he added. "So he had to, kind of, drag it up, the mattress and the pillows — I threw everything out there."
While this might sound extreme to some parents, Schwarzenegger explained that, compared to his own upbringing, he considered himself "lenient."
Patrick, who is now an adult alongside his four siblings Katherine, Christina, and Christopher Schwarzenegger, as well as his half-sibling Joseph Bana, has not shared whether or not he considers his dad strict or lenient. Schwarzenegger's daughter Ketherine, who shares daughters Lyla and Eloise with husband Chris Pratt, might lean towards the strict side after a story Schwarzenegger shared with People, "Katherine comes over with Lyla and she says, 'Lyla, I told you already not to put the shoes there. Keep your shoes on or you put them away, but you don't leave them there by the stand in front of the fireplace because you know what Daddy did? When I left my shoes there twice? The third time, he burned them in front of me and I cried.'" Schwarzenegger confirmed that he did, indeed, burn his daughter's shoes to teach her a lesson.
And now we're wondering what kind of lessons his book Be Useful: Seven Tools For Life, available Oct. 10, will teach us.