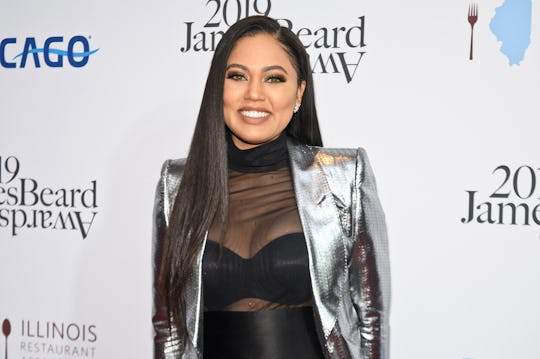 Timothy Hiatt/Getty Images Entertainment/Getty Images
Ayesha Curry Says Her 11-Year-Old Daughter Has A "Full" Skincare Routine
It's a "non-negotiable" for Riley.
Did you have a full skincare routine when you were 11 years old? Ayesha Curry's oldest daughter Riley has one. A really good one, in fact. The mom of three recently opened up about how her 11-year-old daughter is already taking her skincare routine seriously in a way that she herself didn't as a teenager. And it's a real testament to the changing times.
Curry recently spoke to People about her new beauty venture, Sweet July Skin, and admitted she "had no routine as a teenager." She added, "I feel like I was not using great products, but that's all I knew."
Like so many of us who grew up in a world before YouTube makeup tutorials, TikTok, and social media, the About Last Night star told the magazine that a skincare routine "just wasn't a thing" when she was younger, but things have changed with her daughter's generation. "My oldest [Riley], she's 11, and she has a full routine for her skin and she is into it. It's non-negotiable for her," she told People.
Curry, who also shares 8-year-old daughter Ryan and 5-year-old son Canon with her NBA player husband Steph Curry, noted that Riley was the one to make the decision to take care of her skin. "I go in the mornings to wake her up for school, and she's already up in the bathroom washing her face — toning and putting on the serums and the moisturizers. I'm like, 'This is incredible.' She's learning how to care for herself, but I certainly was not like that at that age."
Curry makes sure to make skincare fun with spa nights with her daughters, telling People, "I feel like that's really cool. We'll even have nights, the three of us, where they're like, 'Can we have a spa night, mommy?' We'll get in the bathroom and do the face masks — they love to do the jelly mask that peels off."
Beyond her skincare routine, Riley is bringing her mom lots of joy these days as she grows into her tween years. When she celebrated her 11th birthday recently, Curry penned a sweet tribute to her daughter on Instagram reading, "Time has just flown by. I am so proud of my sweet, smart, talented, captivating big girl. It's a joy being her mama."
The mom of three learned about skincare rituals from her own mother and grandmother while growing up in Jamaica, according to a press release, and it sounds as though Riley has surpassed her. She has certainly surpassed many of us who relied on those stinging skincare products from the '90s because we didn't know any better.
Let's face it, Curry is right. This generation is much more savvy about skincare than we were at their age. We did not have access to social media and dermatologists with millions of followers on TikTok, and it sounds as though her daughter is enjoying her little self-care routine. And her mother is enjoying it right along with her.