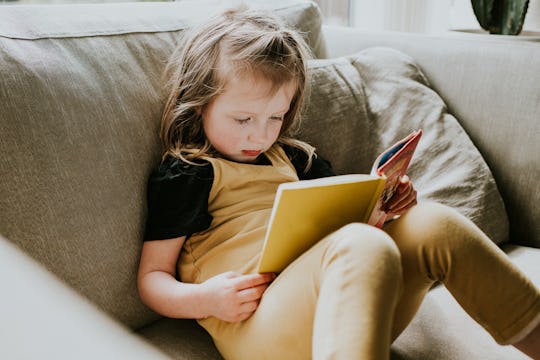 Catherine Falls Commercial/Getty
The Best Books To Encourage Your Child To Never Give Up
You already tell them "never give up," but now you can show them what determination is really like with these books.
As parents, we want our children to be kind, resilient and strong. To be curious and empathetic. And because there will always be hard times in life, we want them to be able to persevere despite any struggles they may face along the way. We can teach all of these qualities by modeling that behavior ourselves, and also by reading to our children. Books are a gateway to the world, and as such, I wanted to share a few children's books that demonstrate perseverance. With everything going on in the United States right now, and all that our children have had to take on with remote learning and social distancing during the COVID-19 pandemic, cuddling up with a good book that show kids how to make it through seems like a great idea right about now.
Story time is a wonderful way to bond with your child and make them feel safe, and as an added bonus, everyone knows the benefits of reading to children are plentiful. Much like the pioneers of our nation (this Laura Ingalls Wilder fan covered pioneer books for children in another post), skills of perseverance, determination, and making do with what we have are needed in this crisis. Now is as good a time as any to teach those skills to your kids.
May we continue to teach our children to work hard and never give up, and may difficult times be behind us soon. Happy reading!