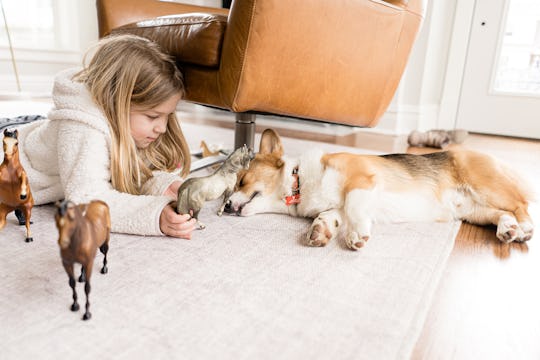 Cavan Images/Cavan/Getty Images
23 Movies & TV Shows To Stream For The Horse Kid In Your Life
So maybe you can get a break from the same movie over and over.
Do you have a budding horse girl or horse boy on your hands? You might find yourself rewatching the same things over and over; it can be hard to find new horse shows and movies for kids. Thankfully, with all the streaming platforms available today, you can access new shows, classic movies, and more if you just know where to look.
Full transparency: I was a shameless horse girl. I have vivid memories of watching hours of The Saddle Club with my plastic stable on the floor in front of the TV, covered in poison ivy and calamine lotion, proving you could pry the Breyer figurines from my cold, lifeless hands. My poor mom recorded hours of horse shows for me to watch, bought Spirit: Stallion of the Cimarron and every possible toy with his face on it, and more to feed my insatiable appetite for all things equestrian.
Did she eventually cave and put me in riding lessons? Yes, and horseback riding is still my main hobby as an adult. But if you're trying to put that off for a little bit longer, tell your little cowpoke or jumper-in-training they'll have to make it through this list of shows and movies first. That should buy you some time (and some sanity when you finally get to switch up whatever show they can't get enough of right now).