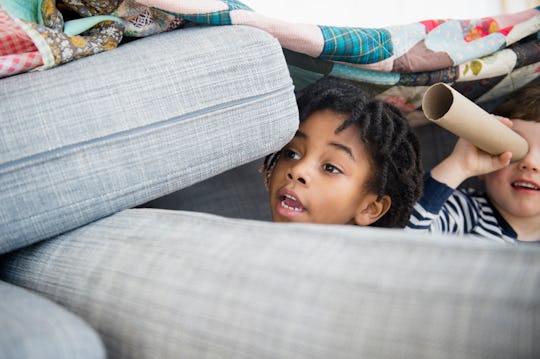 JGI/Jamie Grill/Tetra images/Getty Images
37 Awesome Indoor Activities For Kids To Banish Boredom This Winter
It's all about getting creative with what you have on hand.
Going to the playground is great. Kids can run off their wild energy and hang upside down from the monkey bars, but with winter's chill in the air, perhaps you'd prefer to have the kiddos play indoors. Good news, there are loads of great kids indoor activities. Sure, crafts and board games come to mind. But did you know there are physical activities kids can do inside too? These 32 best indoor activities for kids will have them burning off their Captain Crunch in no time.
This list includes some old favorites in addition to concepts that might leave you scratching your head (but trust, just go with it). The more you endorse these creative options the more likely your kids will be to embrace them. Also many include activities that require little to no additional purchases and can be done with whatever you have around the house. Those old toilet paper rolls? Turn them into pretend binoculars. Random snacks in the cupboard can be a round of "guess the food." Packet of old seeds? Plant them and start tracking their growth. When it comes to fending off boredom at home, imagination is the name of the game. So get creative and your kids will follow your lead.
A day of indoor kids activities need not be boring. With a little enthusiasm and some creativity, you can make the indoors your own playground, craft space, or stage.
This article was originally published on