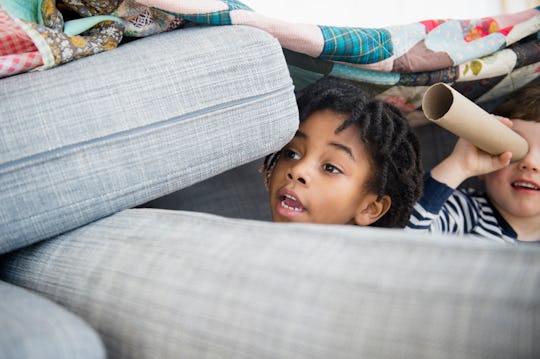 JGI/Jamie Grill/Tetra images/Getty Images
These 32 Best Indoor Activities For Kids Will Banish Boredom This Winter
It's all about getting creative with what you have on hand.
I don't want to make myself out to sound like I was an unathletic child, but to describe me as an "indoor kid" would not have been an exaggeration. As a pale, freckled sprite, my lack of melanin required me to avoid the sun whenever possible, therefore I lived inside my imagination well into my tweens. The end result? I know a thing or two about entertaining oneself as a child stuck in the house. These 32 best indoor activities for kids were there for me as a child and they're here for me as a parent, too, and I can promise they won't let you down.
This list includes some old favorites in addition to concepts that might leave you scratching your head (but trust me, go with it). The more you endorse these creative options the more likely your kids will be to embrace them. Also, I've tried to include activities that require little to no additional purchases and can be done with whatever you have around the house. Those old toilet paper rolls? Turn them into pretend binoculars. Random snacks in the cupboard can be a round of "guess the food." Packet of old seeds? Plant them and start tracking their growth. When it comes to fending off boredom at home, imagination is the name of the game. So get creative and your kids will follow your lead.