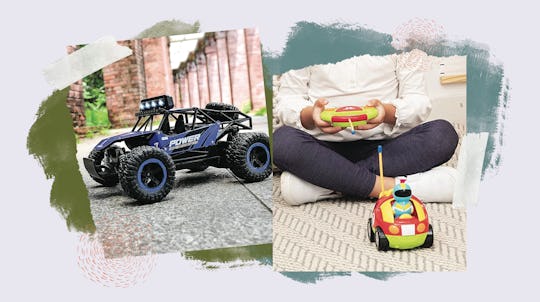 Amazon / Romper
The 8 Best Remote Control Cars For Kids
Options for kids from 2 to their teens.
We may receive a portion of sales if you purchase a product through a link in this article.
Vroom! Zoom! Go, go, go! The best remote control cars for kids will provide tons of entertainment for your vehicle lover. The top picks will be age-appropriate for your child, with controls and features that they are able to easily utilize and enjoy. Also, the best RC cars for kids will run for an amount of time that you're happy with, whether you choose one that's powered by single-use batteries or rechargeable ones. Make sure the product you choose is suitable for the location that your child will play with it — some RC cars are smaller with smooth tires that are better suited for indoor use, while heavy duty picks with larger anti-slip tires are ideal for the outdoors. And if your child's car will come into contact with water, go with one that's designed to be waterproof.
What To Consider When Shopping For Remote Control Cars For Kids
Your Child's Age
While manufacturers often list a suggested age range for remote control cars, you should consider your own child's specific needs when shopping for a new toy. Generally, the best remote control cars for younger kids will have smaller, easy-to-hold remotes with simple controls (usually just a couple of buttons) and will likely drive quite slow. Most often, these picks are cartoon-like or they feature fun character designs — they're honestly just adorable! Some remote control cars for younger kids include plastic driver figurines or they make fun sounds, should either of those be of interest.
On the other hand, remote control cars for older children and teenagers will likely be larger, faster (some can go almost 30 MPH), and a bit more complex to operate. Most picks for older kids will feature a bigger remote — choose from ones with dual joysticks or a pistol grip controller, based on your child's preferences — with more control capabilities than the options for younger kids. Also, remote control cars for older kids are available in a wide range of car types (including replica models of specific cars, monster trucks, stunt cars, and more), so be sure to choose one they'll love. Some manufacturers of more advanced models will also include a car's scale, which will be written as "1:10" or "1:28," for example; generally, the larger the second number, the smaller the car.
Other Criteria To Consider
Regardless if you're purchasing a remote control car for a toddler, young child, or older child, there are some important specifications that you'll want to take note of:
Type of battery: Choose from remote control cars that are powered by single-use batteries or rechargeable ones. Single-use batteries allow for instant gratification (no need to wait for them to be fully powered!) but the downside is that batteries can be pricey over time. If this is a deal breaker for you, consider purchasing batteries that can be recharged (you can find them in most battery sizes including AA or AAA). Alternatively, look for a remote control car that actually comes with rechargeable batteries. You'll just need to remember to plug the battery in when it's dead, and be patient while it takes time to get fully charged.
Range: This number indicates the distance that the car can be from your child and still be controlled. The higher the better! Not all manufacturers will provide this spec, but feedback from Amazon reviewers can help give you a sense of the possible range as well.
Frequency: If you have multiple children who will want to enjoy the remote control cars simultaneously, opt for ones with a 2.4 GHz frequency. Cars with a 27 MHz frequency often can't be used next to one another due to signal interference issues.
Shop The Best Remote Control Cars For Kids
In a hurry? Here are the top picks for the best remote control cars for kids:
Below you'll find remote control cars that are wildly popular on Amazon, with tons of parents commenting that their kids love them.
About The Recommender
As a mom of two young children, Jenny White has spent countless hours researching kid-related products and compiling the top picks for shoppers. Jenny has written for Romper since 2019, as well as other publications like Bustle, Elite Daily, and Inverse. She holds a bachelor's degree from the University of Missouri School of Journalism.