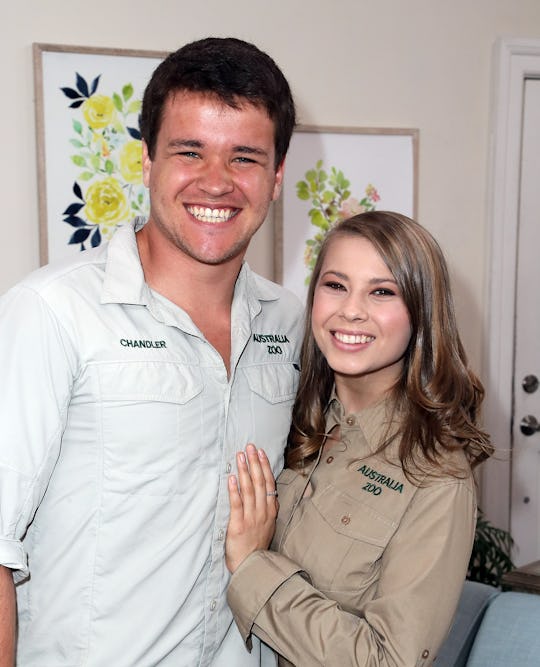 David Livingston/Getty Images Entertainment/Getty Images
Bindi Irwin Has Been Sharing The Cutest Photos Of Her Daughter
Little Grace loves to laugh!
Now that Bindi Irwin is officially a mom to her first child with her husband Chandler Powell, the wildlife conservationist has already shared an adorable collection of photos and sweet updates about her newborn daughter. (Spoiler alert: She already has her first pair of khakis!)
In an Instagram post announcing her daughter's birth in March, Irwin revealed that she named her Grace Warrior after her great-grandmother and her late father, Steve Irwin. "Our graceful warrior is the most beautiful light," she wrote. "There are no words to describe the infinite amount of love in our hearts for our sweet baby girl."
Since then, the Crikey! It's the Irwins star and her husband have made it clear that while there are no words to describe just how much they love being parents to little Grace, they sure love to photograph her and capture all of these precious family moments.
Happy Baby
Should it come as a surprise that Grace is such a happy baby? Not really, given how enthusiastic her parents are and how exciting her life is already. Powell took to Instagram where he posted a video of Irwin singing the names of the 50 states in the United States while dancing with Grace. This was something that Grace thoroughly enjoyed — the little girl could not stop laughing at her mom's singing.
Not only is this video so adorable to watch, but it's a clever way for them to teach Grace about her dad's home country. Before moving to Australia in 2018, Powell grew up in Florida and attended the University of Central Florida.
While Irwin might have forgotten New Hampshire in her song, she was just a little distracted by Grace's adorable laugh to "remember every state," Powell noted.
Little Joey
Irwin and Powell's "human joey" got to meet the Australia Zoo's Joey, also known as a baby kangaroo. While they may be close in age and size, that's pretty much where the similarities end between Grace and the kangaroo.
"Grace absolutely loved meeting the littlest roos with her mama," Powell captioned the photo.
Her Own Bird Garden
Grace is now officially a permanent part of the Australia Zoo. Powell took to Instagram in June where he revealed that Grace's Bird Garden is now open at their zoo.
Obviously, Grace looks thrilled.
Sweet Smiles
Baby Grace seriously looks like the happiest baby around. Powell shared that Grace is such a "happy girl" who loves to laugh at her surroundings.
"Grace has started giggling all the time and loves spending her afternoons walking through the zoo with us," he revealed in the caption of the post. "She especially enjoys the flower gardens just like her mum!"
She Really Loves Giggling
In another post on the gram, Irwin reiterated Powell's statements about their giggly little girl.
"Our sweet girl and adventuring through Australia Zoo," Irwin wrote in the caption of the post. "Giggling when we talk about all the animals we're strolling by."
Like Mama, Like Daughter
While Grace is such a cute little girl on her own, she is already starting to resemble one parent more — her mom. In a photo posted to Irwin's account, Grace can be seen wearing a hooded towel while Irwin holds her. In a second photo, Irwin posted a photo of herself as a baby wearing her own hooded towel.
They look so much alike, have the same eyes, and have the same love of hooded towels, according to Irwin's Instagram caption. "Like mama like daughter," she wrote.
Little Baby, Big Adventures
Although she may be small, Grace is already going on some big adventures with her parents. Irwin posted a photo with Grace on a family walk through a forest, showing that the little girl already has a sense of exploration at her young age.
It's safe to say that there will be many more adventures in Grace's life to come.
A Wildlife Legend
Family walks are very exciting when you have Irwin and Powell as your parents. During a recent family walk, Powell revealed that Grace was able to see her "first wild swamp wallaby, noisy pitta, and possum."
Not only is she a baby wildlife warrior, but "she's already a legend at spotting wildlife," Powell revealed.
Family Bonding
Baby Grace is already getting her fill of family time, especially when it comes to her grandma and uncle. Irwin posted an adorable photo of her holding Grace while smiling into the camera with her mom, Terri, and younger brother, Robert.
"All the love in the world," she captioned the sweet shot.
First Koala Encounter
Grace is going to have to get used to being around some seriously cute animals, given the family she was born into. In May, Grace got to meet a koala for the first time, which Irwin documented in an Instagram post, of course.
"She was fascinated and so was Milo our darling koala!," she captioned the photo. "Too cute." Agreed.
Two Month Update
Grace Warrior turned two months old on May 24, and could clearly not be happier about this milestone. Her little smile is so contagious.
"Two months old and our beautiful Grace Warrior is all smiles!," Bindi captioned the photo. "She is the happiest little light in the world."
Baby Buddy
While Grace might be bonding with zoo animals, she's also bonding with her dad, who recently called her his "buddy" on Instagram.
Adventure Baby
Every day must be an adventure at the Australia Zoo, and baby Grace is already getting her fill of them. In a new Instagram post, Irwin shared that the family of three went for their "first family dinner adventure," which looked pretty magical.
"I'm a proud mama," she concluded.
Bright Eyed Baby
Irwin's younger brother, Robert Irwin, is also sharing his love for baby Grace. The proud uncle took to Instagram where he shared a close up photo of Grace's face, who looks adoringly into the camera. "Look at my lil niece!!!!!," he captioned the post.
The new mom couldn't resist commenting on the photo. "Little Warrior princess," she wrote.
Two Month Update
Baby Grace is only 2 months old but is already taking a liking to certain things, Irwin revealed in the caption of an Instagram post. "She loves an afternoon walk through our Australia Zoo Gardens, lots of cuddling, and smiling big," she wrote.
But most importantly, their little girl "lights up the world with her beautiful heart." Awwwww.
Her First Mother's Day
The new mom officially celebrated her first Mother's Day with her family. While the holiday calls for a celebration, it was also bittersweet for the new mom, who posted a hand-drawn portrait of her family, by illustrator Debb Oliver, with the inclusion of her father holding his granddaughter. "This day embodies the extraordinary gift of family," she wrote in the caption of the post.
"I wish we could all be together but sometimes life has other plans. To my beautiful daughter, always know that you are loved beyond description," Irwin wrote on Instagram.
Powell's Mother's Day tribute to his wife was just as sentimental, touching on Irwin's strength as a mother.
"This is your first Mother's Day yet it feels like you've been doing this forever," he wrote. "Grace and I are both lucky and grateful to have you in our lives. We love you so much."
Happiest Baby Around
Grace sure is one very happy baby. The new mom posted a photo of her smiling, while holding Grace, who had a joyful expression that matched her mom.
"Grace's beautiful smile," she captioned the photo. Meanwhile, their family dog, Piggy, looks just a little concerned.
Clearly, Piggy loves being a big sister.
Her First Khakis
In Grace's official one month update, taken alongside the star tortoises from her family's zoo, Irwin revealed that Grace finally received her first khakis, or Australia Zoo uniform. The khaki shirt and shorts has gone on to become a symbol of Irwin's late father and "everything he stood for," as Discovery explains, so it's only fair that the family's newest wildlife warrior has a uniform of her own.
"We're so proud of our Wildlife Warrior princess," Irwin captioned the photo. "I know our darling girl is going to grow up caring for Mother Earth and all her animals."
That same week, Powell posted a photo of him and Grace wearing their "dad and daughter khakis."
But something tells me that they will be wearing matching khakis for many years to come. After all, it is their official uniform at the zoo.
Devoted Dad
Irwin and Powell, who have been married since March 2020, are so absolutely in love with one another. And it shows — especially now that Grace is in their lives. "A note of gratitude for this incredible man that I get to call my husband," Irwin captioned a photo of the dad-daughter duo, posted to Instagram in April.
"Grace and I are beyond blessed to have him in our lives. His strength, love, and kindness are the greatest gifts in the world."
Baby Model
At less than a month old, Grace is already getting into modeling. In an April Instagram post, little Grace wore the cutest onesie featuring a baby wombat from Australia Zoo's line of baby clothes.
How adorable is their own baby wildlife warrior in their Baby Wildlife Warrior clothing collection?
The Light In Their Lives
Irwin posted the first video of their daughter to Instagram when she turned three weeks old.
"Your dad and I love you beyond description," she wrote in the caption of the post. "Thank you for being the most beautiful light in our lives."
Gang's All Here
Not every photo of Grace is posed. In April, Powell took to Instagram where he shared the cutest candid photo of him, Irwin, Grace, and Piggy.
Two Weeks Earthside
Irwin commemorated Grace's two week update with three stunning family photos posted to her Instagram account. The couple looks so blissfuly in love and Grace looks like such a happy and peaceful baby.
Also, just look at Powell's smile!
Sleeping Beauty
According to Irwin, Grace is "always dreaming." About what? Hard to say, but she is surrounded by a bunch of adorable and exotic animals.
One Week Old
The first week of Grace's life was filled with the "sweet snuggles and infinite love," according to Irwin.
First Family Photo
On March 26, just one day after welcoming Grace into the world, Irwin took to Instagram where she shared their first photo as a family of three.
Whether she's asleep or awake, posing with animals or dreaming about them, Grace Warrior Irwin Powell is one adorable baby.