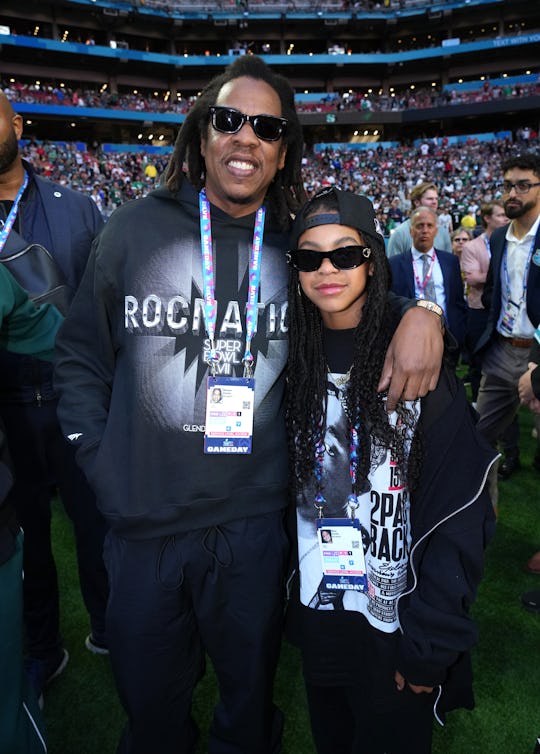 Kevin Mazur/Getty Images Entertainment/Getty Images
JAY-Z Reveals Blue Ivy Went Through A Phrase Of Not Thinking Her Parents Were "Cool"
But now she's asking her dad for fashion advice.
We can all agree that Summer 2023 did not belong to Taylor Swift or even Beyoncé. It belonged to 11-year-old Blue Ivy. The oldest child of Beyoncé and JAY-Z ruled the summer as a backup dancer on her mom's Renaissance tour, cultivating her own loyal following of fans who learned how to do her signature dance moves and did their best to copy her amazing style. In other words, Blue Ivy is sort of the coolest of the cool. Which makes sense, considering she comes from an almost impossibly cool family, though she didn't always see them that way. According to JAY-Z, Blue Ivy used to see her super famous parents as being pretty uncool, but she's figured out she was wrong about that.
JAY-Z was recently interviewed by Gayle King for CBS Mornings about his life as a music mogul, icon, and dad of three, including 6-year-old twins Rumi and Sir. When King asked him if his kids think he's cool, he answered that Blue was little skeptical for a bit.
"Blue, she be frontin' on me a little bit. I catch her in the corner, you know?" he shared, but went on to say that recently, things have changed. "Now she asks me if this is cool, if her sneakers or whatever she's wearing [are cool]." He's happy to say that she's "come back" to thinking he's cool, because "there was a time when she was like 'Dad!'" and he mimicked hiding his face.
For his part, JAY-Z knows he's cool, but even more than that, as he recalled telling Blue, "At your house, your parents is cool."
Thank you, JAY-Z. We all appreciate that.
Blue Ivy could certainly do worse than going to either one of her parents for fashion advice. Both JAY-Z and Beyoncé have long been trendsetters and tastemakers. The fact that Blue Ivy has already figured out that it's okay to think her parents are cool at the tender age of 11 years old somehow makes her even cooler.
Touring with her mom for the summer and performing in front of thousands of fans might have changed her perspective about her mom's cool factor just slightly. In fact, Blue Ivy was even ready to invite her grandmother Tina Knowles onstage because she figured everyone might as well get in on the fun. "Blue tells me all the time, 'Grandma, you should come up there,'" Knowles told Page Six recently. "And I'm like. ;When am I going to find time to practice?' Because, you know, us old folks got to practice a lot longer than them. She learned it in like a week."
One of the coolest things about JAY-Z and Beyoncé might just be that they get to be Blue Ivy's parents.