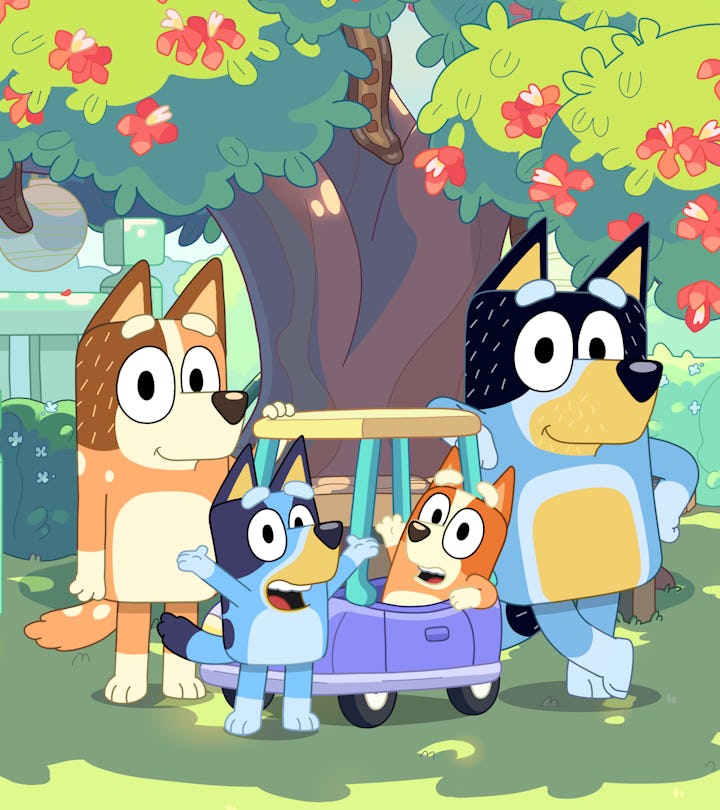 Image courtesy BBC Studios
The Bluey Season 3 Trailer Is Finally Here!
The newest season of Australia's award-winning animated children's show will make its way to Disney+. Eventually.
Get ready for more wackadoo because Bluey is bringing another season of hijinks to viewers in the United States — eventually, that is. In the spring of 2021, BBC Studios and Disney confirmed they planned to air a third season of the award-winning animated Australian children's show on Disney Channel and Disney Junior. Best of all, Season 3 of Bluey will also be available to stream on Disney+! But don't get too excited just yet. While a Bluey Season 3 release date has been announced for Australia, fans in the United States may be waiting a tad longer for new episodes of Bluey, Bingo, Bandit, and Chili's adventures.
"We are really excited that our brand new season of Bluey, currently in production, will be coming to Disney," Charlie Aspinwall, executive producer for Ludo Studio, the Emmy-Award-winning creative company behind Bluey, said in a statement shared with Romper. "Season 3 will bring us more fun and games at home with the Heelers and out and about with Bluey and Bingo's friends."
Season 3 Of Bluey Has Premiered — In Australia, At Least!
Season 3 of Bluey premiered in Australia on ABC Kids and ABC iView on Nov. 22. According to ABC, a new episode of the popular children's show aired on the network every day until Dec. 16.
While Bluey's third season has officially dropped, viewers in the United States are still waiting to see what extraordinary adventures the 6-year-old Blue Heeler dog has gotten up to with her family and friends as the show often airs in Australia before coming to viewers overseas.
Where To Watch Season 3 Of Bluey In The U.S.
U.S. viewers, however, will have more than one place to watch Bluey's newest season when it finally does air thanks to a recent partnership deal between BBC Studios, which jointly commissioned Bluey along with ABC, and Disney, which purchased the show's international broadcasting rights in 2019. According to a May 2021 press release from BBC Studios, Bluey's upcoming third season will be available to watch on Disney Channel, Disney Junior, and Disney+.
Still, it remains unclear exactly when fans of the animated blue heeler pup can expect to see the series' third season begin to air. For reference, Season 2 of Bluey premiered in Australia in March 2020 but was not made available to stream in the United States on Disney+ until May 28, 2021.
A Trailer For Season 3 Is Here!
Joff Bush, the music composer behind Bluey, tweeted a photo of the Heeler family on Oct. 25 and revealed there are some "absolutely incredible episodes" to look forward to in the new season. "Aussie airdate for the first half of season 3!" Bush captioned the photo on Twitter. "There's some absolutely incredible episodes in here and I'm so proud of all the work the music team put in."
ABC has also released a trailer for Season 3 of Bluey, giving fans a sneak peek at their favorite Heeler family's latest antics. In it we see the Heeler family holding a mock trial in their kitchen, Bandit showing off his best dance moves, bath time for Bluey and Bingo, and other fun games.
How To Catch Up On Past Seasons
Fans can get to know the Heelers and catch up on the family's previous adventures by streaming Seasons 1 and 2 of Bluey on either Disney+ or at Bluey's official website. All 51 episodes of the series' first season are available to stream now on Disney+, as well as the show's second season.
Bluey and her family first began captivating Australian audiences in 2018. But soon snippets of the animated children's show were reaching viewers in other parts of the world thanks to social media, and it quickly became clear that Bluey was a show kids across the world would love. The show centers on Bluey, an energetic and curious 6-year-old blue heeler pup, and her family, the Heelers. Joining Bluey in her adventures is often her 4-year-old sister Bingo, her practically always tired, but still doting, father Bandit, and her kind mother Chilli, who's recently gone back to work part-time.
Much of Bluey's adventures are built on imaginative play and the series frequently features family-friendly themes like sharing, caring, responsibility, and more. What's more, the show is designed to provide parents with a number of teachable moments or instances where parents can use whatever is happening to Bluey to drive home an important lesson with their own children.
This article was originally published on