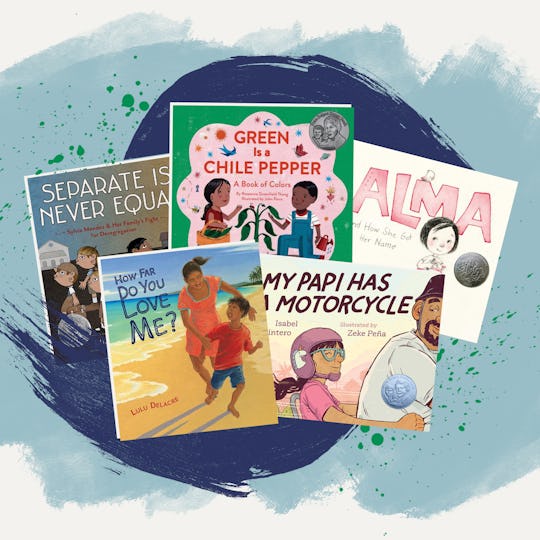 42 Children's Books Starring Latinx Characters
These books are full of joy, love, and hope.
A young boy becomes a world champion lucha libre wrestler. A giant bubblegum bubble carries a girl on a fantastical journey. Another child loses her mother's ring in a giant batch of tamales and has a feast to find it. These children's books with Latinx characters not only tell stories that help Latinx children feel seen, but could easily become any kid's favorite bedtime story.
We Need Diverse Books, a nonprofit that advocates for changes in the children's publishing industry, shared statistics with Romper from a 2019 survey by the Cooperative Children's Book Center. The survey found that the percentage of kids' books with white protagonists was 41.8%, while Latinx protagonists only starred in 5.3% of books. "For many children, a book can be the first time they see their identity or experiences affirmed, especially if representation in other media is lacking," Nicole Johnson, executive director of We Need Diverse Books, told Romper. "Too often, diverse characters are missing from books and other media, leading kids to wonder why they don't see themselves. Over time, a child can begin to feel invisible and that their experiences do not belong."
Johnson also suggests that when choosing children's books, parents should keep in mind the broad range of experiences and backgrounds that exists within the Latinx community.
"A diverse bookshelf should feature books with a wide variety of Latinx protagonists, including biracial and multi-racial protagonists and Latinx protagonists who reflect the intersection of identities, such as Muslim Latinx and LGBTQ+ Latinx protagonists," Johnson says. "Books that have a diverse, full cast of Latinx characters will show young people that characters from Latinx backgrounds should not be tokenized. Instead, they can exist as part of a larger community."
The following 42 children's books were recommended by The Latina Book Club, We Need Diverse Books, Hip Latina, In Culture Parent and Coloursofus.com, Social Justice Books, and Latinxs In Kid Lit to do just that.
We only include products that have been independently selected by Romper's editorial team. However, we may receive a portion of sales if you purchase a product through a link in this article.
WNDB also has a free app, called OurStory, to help librarians, educators, and parents discover diverse books. You can find more resources on Latinx stories via Latinxs in KidLit, Latinx in Publishing, Lee & Low Books, and Social Justice Books, and by researching books that have earned The Pura Belpré Award.
Source:
Nicole Johnson, executive director of We Need Diverse Books