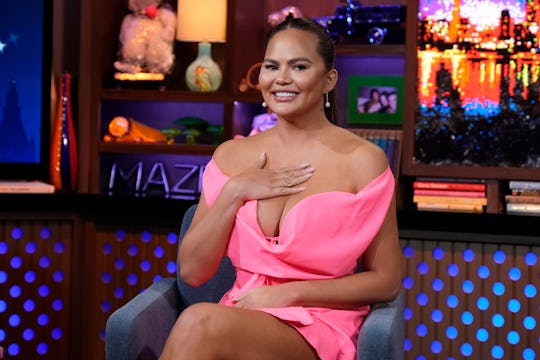 Bravo/NBCUniversal/Getty Images
Chrissy Teigen Shares Wild Story About DNA Test Discovering She Had An Identical Twin
"This is why I'm co-dependent, because my twin was ripped away from me."
Chrissy Teigen recently took a DNA test that left her "spiraling" and not just because she found out that she is part Neanderthal. She was certain that the test via the biotechnology company 23 and Me had discovered she had an identical twin, and it really sent her on a path of self-discovery. Literal self-discovery, in fact.
The Cravings cookbook author took to Instagram on Sunday to share the adventure she had been on over the past 24 hours. She had decided to try out an upgraded version of 23 and Me to get some in-depth information on her DNA, and up popped information that she had an identical twin. Teigen shared screenshots of the information, including a message she sent to this twin.
"At this point, I'm spiraling," she admitted, going on to share a message she sent to her doctor. Teigen didn't get any responses so she decided to call her dad, Ron Teigen Sr., to get to the source. "I literally say, 'Dad, hey, did you see me come out of Mom's vagina and were there two of me?'" Teigen explained in the video. "He starts laughing and saying, 'No, I was there. There were not two of you.' I'm like, 'Are you sure you were there?'"
Teigen, who shares 6-year-old daughter Luna, 4-year-old son Miles, and baby girl Esti with husband John Legend, went on to call her sister Tina Teigen for confirmation. When Teigen told her sister she discovered an identical twin, Tina gasped. And that's when the spiral really took hold of Teigen because she assumed this gasp meant that she really did have a long lost identical twin. "At this point, I'm making excuses for my whole life," she said. "This is why I'm co-dependent, because my twin was ripped away from me. I've always felt something missing, and this is why I have addiction issues."
Wrong. Her sister reminded her that Teigen and the rest of the family had done 23 and Me tests anonymously before when she was meant to be on an episode of Finding Your Roots that did not air, which meant Teigen was her own twin.
It was a wild story that left her followers riveted. "LOL I was on the EDGGGGEEE of my seat this entire story," wrote one person while another added, "Lmaoooooo! So we not gonna get you at camp with your long lost identical twin?" The actual 23 and Me website even responded, "Glad that was cleared up" with a bunch of laughing emojis.
Sadly, there is no "Sissy Teigen," which was what the mom of three was apparently getting ready to call her twin. "Gone too soon" as one social media user noted after Teigen shared a faux tombstone honoring "Sissy Teigen, sister, aunt, and friend." Her would-be twin. For a day at least.