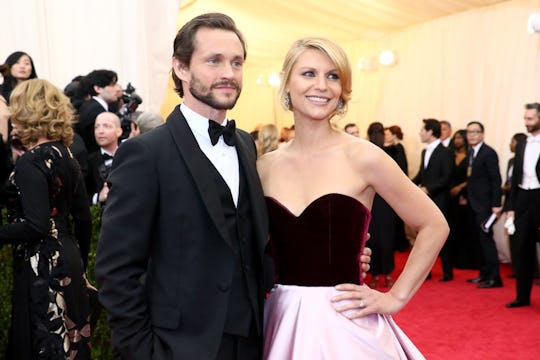 WWD/Penske Media/Getty Images
Claire Danes & Her Husband Hugh Dancy Are Expecting Their Third Child Together
Congrats are in order for the Fleishman Is In Trouble star!
Claire Danes has been nominated for a Golden Globe for her stellar performance as complicated new mom Rachel Fleishman in the Hulu limited series Fleishman Is In Trouble, based on Taffy Brodesser-Akner's book of the same name. And while life isn't exactly imitating art, perhaps it might be channeling it just slightly. Because the award-winning actress is going to be welcoming a new baby herself, her third child with husband Hugh Dancy, in the near future. Here's what else you need to know about the actress' growing family.
She fell in love with her husband on set.
The Homeland actress first met British actor Hugh Dancy when they were co-stars in the 2007 film Evening, and began dating around that time before marrying in 2009. In a 2017 interview with Marie Claire, Danes recalled that momentous first meeting, "[Hugh and I] met in Rhode Island when it was at its most audaciously beautiful, in the fall. And there was one day when we were bicycling by the water and it was sparkly and idyllic, and I just had this dumb epiphany, like, 'I'm really just happy.'"
They married in France.
Danes and Dancy married in a private ceremony in France in 2009 after bonding over low-key dates like playing Boggle and Scrabble together, according to People. And after more than a decade together, Danes admitted in 2021 that she feels "secure" in her marriage. "My mum Carla taught me that a long marriage can work," Danes told The Sun at the time. "My parents have been together since they were 18, so I am privileged to have them as role models. I like marriage. I feel very secure. It helps when you are in love with the person you are married to. I do sometimes look at him and think: 'You are really handsome.' He keeps me sane and happy."
Their oldest son Cyrus was born in December 2012.
The couple became first-time parents when son Cyrus Michael Christopher was born in December 2012. They did not share any information on their firstborn son at the time and certainly did not share photos, but that didn't stop little Cyrus from becoming a showbiz baby pretty early on.
"He's the Homeland baby," Danes told People when her son was 2 years old. "I was pregnant with him filming. Third season, he was five months. I have so many photos of him in various stages of development in Carrie Mathison's chair." She went on to add that little Cyrus "says, 'Action!' He's a real set baby. It's really sweet. He loves the [show's operations room] because of all the lights. It's a great environment for a kid. It's the circus!"
Their son Rowan joined the family in August 2018.
In 2018, Danes confirmed to Howard Stern that she was "seriously preggo" with her second child, and that she and Dancy had been wanting to add another baby to the family "for awhile." In August, son Rowan was born, and the mom of two told Stern that Cyrus called his little brother "his baby," adding, "He's excited and showing a little ambivalence too."
Rowan was not a set baby like his brother as Danes took time off from filming when he was born. "It feels like a huge luxury," she said at an event in 2018, per People. "When I was pregnant with my first son, I worked until I was in my eighth month, so this feels like a huge gift, to have a chance to kick my feet up a little bit."
Baby #3 is on the way!
A rep for Danes and Dancy confirmed to People that the couple are expecting their third baby, but did not share details about the due date or sex of the baby. All we know is that Claire Danes is about to be a mom of three with a husband who makes her feel secure and happy. And that's enough for now.