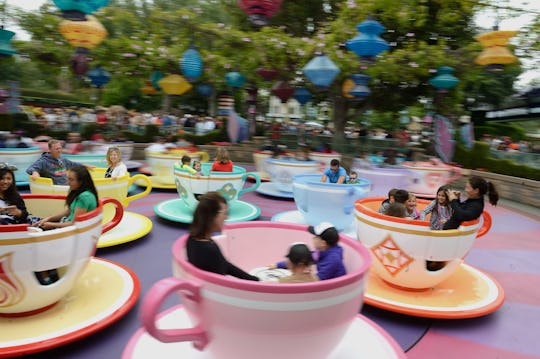 MediaNews Group/Orange County Register via Getty Images/MediaNews Group/Getty Images
Disney Park's New Genie App Comes With A Line-Skipping Perk
But the perk comes at a price.
The genie is out of the bottle. Guests at Walt Disney World Resort in Florida will soon have access to Disney Genie, a new digital service designed to help guests create personalized itineraries and map out their day at the park. But while Genie's most basic planning services are free to all, its launch also signals the end of the park's free ride reservations systems. Now, guests who want to skip the line at various Disney World attractions will have to hand over an additional fee on top of their regular ticket price. So here's everything you need to know.
What Is Disney Genie?
Disney Genie is a new complimentary digital service built into the My Disney Experience app. Disney has described it as "a digital friend who could show you the best ways to enjoy popular attractions" within Disney theme parks. Through it, guests can plan visits to specific park attractions, food experiences, entertainment, and special interests stops such as Disney princesses, villains, and more.
Once a guest has shared their preferences with Disney Genie, the service will create a personalized itinerary complete with current and forecasted attraction wait times and the ability to make dining reservations or place mobile food orders. Guests willing to pay an extra fee will also find they can access additional features, including the ability to skip the line at popular attractions.
What's The Difference Between Genie & Genie+?
While Disney Genie is free, $15 per ticket, per day will give guests access to Disney Genie+, a service that, along with providing customizable planning features, will enable guests to skip the line at a number of park attractions. With Disney Genie+, guests can select the next available Lightning Lane entrance time at more than 40 attractions and experiences across Walt Disney World Resort theme parks. For example, a family of four with one-day tickets to Walt Disney World's Magic Kingdom Park could purchase Disney Genie+ for each family member for a total of $60 and then use the service to skip the line at "It's a small world" and Haunted Mansion.
While guests aren't limited in how often they can use Disney Genie+ to access Lightning Lane entrances during their visit, Lightning Lane reservations can only be made one at a time (meaning you can't select Lightning Lane arrival windows for Millennium Falcon: Smugglers Run and Jungle Cruise at the same time). Additionally, Lightning Lane arrivals cannot be scheduled prior to 7 a.m. the day of your visit.
Upgrading to Disney Genie+ will also provide guests with access to Audio tales that divulge fun facts and behind-the-scenes insights and Disney PhotoPass Lenses, which will allow them to explore new augmented reality effects.
When Will Disney Genie Launch?
Disney World Resort guests will have access to Disney Genie and Disney Genie+ beginning Oct. 19.
What's Not Included In Genie+?
Unfortunately, the purchase of Disney Genie+ won't unlock quick access to every attraction at Walt Disney World. Lightning Lane access to high-demand attractions like the Seven Dwarfs Mine Train and Space Mountain in Walt Disney World's Magic Kingdom Park or Remy's Ratatouille Adventure and Frozen Ever After in Epcot is not included with Genie+ purchase. Instead, guests must purchase separate individual Lightning Lane selections to these rides for an additional yet-to-be-determined fee.
What About FastPass and MaxPass Programs?
In unveiling Disney Genie, Disney announced it would officially retire its free FastPass and MaxPass programs, thus paving the way for its new fee-based ride reservation program.
Will Disney Genie Roll Out At Other Disney Parks?
Although it's not clear exactly when, Disney Genie is expected to eventually be rolled out for use at Disneyland, where guests will be able to pay $20 per ticket, per day to upgrade to Disney Genie+.
What Do Fans Think Of Genie+ & The Lightning Lane Service?
Based on initial reactions, Disney's decision to transition toward a fee-based line skipping system has not proved popular with fans, many of whom expressed disappointment and frustration with rising costs at the theme parks. "Wow! Increased theme park parking fees, daily parking fees at resorts, and now paying for fast pass," one future guest wrote in a comment on a Disney Parks Blog announcing Genie+. "Just dropped $1,300 for four 2-day hopper passes. Now you want another $120 for a fast pass. Please put the genie back in the bottle!"
Others echoed the sentiment that family trips to Disney theme parks are already expensive enough without charging added fees for every little service. "Part of what made Disney Special was the fairness of things like fast pass being included in the park ticket," one park fan commented. "Sad to see Disney becoming more like the other parks where people with disposable income get the perks. Agree that it makes it all less magical… especially for families who were already stretching a dollar to come to this special place."
This article was originally published on