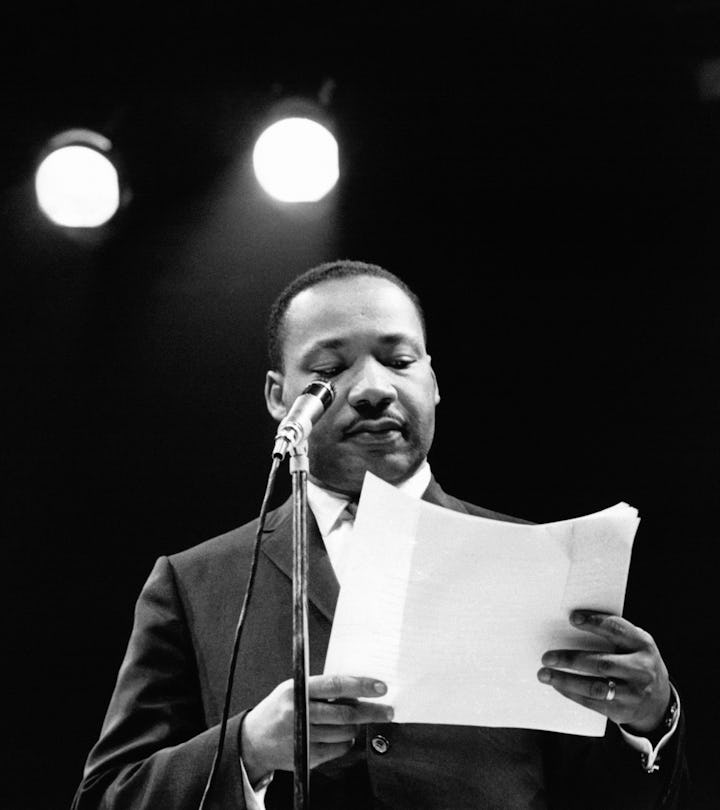 Christian HIROU/Gamma-Rapho/Getty Images
10 Moving & Informative Documentaries About Martin Luther King Jr.
Honor the civil rights hero's legacy by watching these moving and informative documentaries.
by Tessa Shull and Casey Suglia
With Martin Luther King Jr. Day upon us, it's important to remember the events that led up to the March on Washington, MLK's leadership for a broken nation, and why we consider Dr. King a prominent hero and a crucial figure in the story of American history. If you're looking to reflect on the holiday by educating yourself even further on the man and the causes that he fought for, here are some great must-watch documentaries about Martin Luther King Jr. to add to your queue.
Showcasing the life and activism of the legendary civil rights leader, these documentaries offer a true, raw, and historical account of the events that occurred spanning from MLK's journey into leadership, to his famous speech, and his eventual tragic assassination. To gather a real sense of the segregation and events leading up to what has now been marked a federal holiday, take some time to hear others' accounts, understand what was going on, and remember those citizens who were involved in a movement that was much needed — and in some sense, still is — not just in the American south but the entire country.
As MLK Day approaches, here are a few important and moving documentaries for you to check out.
Learning about the great man more deeply is a meaningful way to honor his life, and his mission, on your Monday off.
This article was originally published on