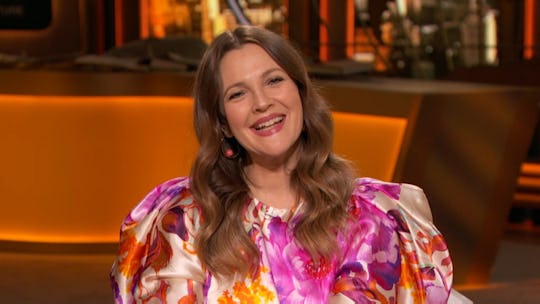 Bravo/NBCUniversal/Getty Images
I'm Happy To Report That Drew Barrymore's Bedroom Also Becomes A Chaotic Mess
The mom of two is no stranger to "doom piles," my friends.
If ever you needed more proof that Drew Barrymore was a generous, down-to-earth soul, we have it right here. The talk show host and mom of two recently shared a video of her home before and after she cleaned it, and that level of openness deserves to be applauded. Especially since the "before" version might look so very familiar to so many of us.
Barrymore recently shared a video on Instagram that was an absolute exercise in vulnerability. "Show me your room before and after you clean it," she captioned the video, and boy did she mean it. Barrymore started in her bedroom where the floor was littered with detritus like paperwork, which included an E.T. script, of course, as well as boxes, clothes, and accessories with cupboards flung open all over the place. Barrymore then made her way to her en suite bathroom. There her sink was covered in bottles, lotions, makeup, and intriguingly, yet more cupboard doors flung open. Barrymore looks at the camera and bites her knuckle, seemingly overwhelmed by the amount of work she'll have to do to get everything cleaned up.
Barrymore then switched to the "after" portion of the video wearing a sweatshirt as she walked through a perfectly organized closet, a tidy bedroom, and a nicely arranged desk that got a chef's kiss of approval from Barrymore. "Ahhhh. Much better," she wrote over the video. Her bathroom, however, still had plenty of bottles on the sink but Barrymore laughed it off, because honestly what else can you do?
Certainly Barrymore's followers appreciated her video. "When you realize celebrities (some of them) are regular people too. I love that her bathroom looks like a normal persons bathroom and not the size of a whole apartment."
Another added, "So nice to see that I'm not the only one with a mess like this!! Lol."
"Girl, look at all those doom piles!! So very relatable," one more chimed in.
Finally, one fan summed it up quite nicely: "If Queen Drew's room can look like this sometimes, then it's okay if mine does too. ️Thank you for your authenticity. This is a major struggle of mine and it's good to see that even those we look up to deal with this as well."
The Never Been Kissed star is not the first celebrity to offer fans a glimpse of a more realistic-looking home. Julia Fox won hearts when she shared a tour of her New York City apartment last month, perhaps inspiring the often-relatable Barrymore to follow suit.
If this becomes a trend, it's absolutely a trend we can get behind. Real homes that get messy and disorganized. Just like life.