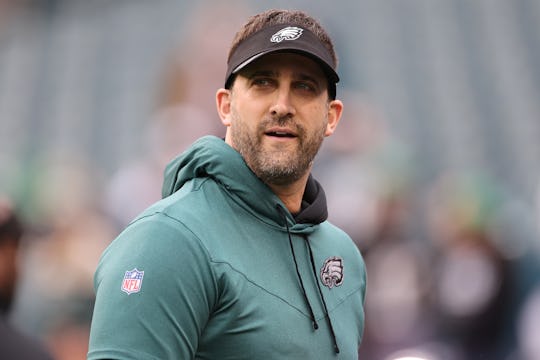 Tim Nwachukwu/Getty Images Sport/Getty Images
Eagles Coach Nick Sirianni Brought His Kids To A Press Conference & It Was Hilarious
Let's just say... they stole the show.
Nick Sirianni is a serious man with a serious job as the coach of the Philadelphia Eagles. When he speaks at a press conference, people listen, especially as his team is about to play against the Kansas City Chiefs in this year's Super Bowl. Well, some people listen. Not his kids apparently. Because when Sirianni brought his three little ones to sit in on a recent press conference, they truly could not have cared less about what he was saying. Especially his daughter.
After Sirianni's team won the NFC Championship that would see them square off against the Kansas City Chiefs at Super Bowl LVII, he sat down for a press conference to discuss the team's performance. Perhaps in an effort to invite his children into his work life, Sirianni chose to bring his three little ones to sit with him while he answered questions from the press. And it turned out to be a very different experience from the one he was perhaps expecting.
His daughter Taylor, in particular, made it very clear that she was there to be entertained, not to listen to him talk about sports. And so she just went ahead and stole the show.
While her dad spoke, Taylor and her brothers, Jacob and Miles, wore NFC Championship hats like their dad and tried for about three seconds to sit still. Sirianni's oldest son Jacob sat with his hands covering his face, trying perhaps to hide his boredom. Little Miles sat on his dad's lap and, to his credit, looked pretty happy to be there. Classic baby of the family. Taylor, on the other hand, was not as interested in being a silent participant. She waved her hands around while her dad talked and looked to be lip-synching along with his responses. Taylor was eventually told by her dad to "stop it" while her brothers were reminded to "look forward," and her response was to put her hat on backwards and just keep on doing what she was doing.
Bad news for Sirianni, people really loved it. "This is cracking me up. I love the fact that he brought his kids with him. His daughter is mocking him and his son to his right is rubbing his face like… 'is this ever going to end.' Love it," wrote one social media user. Another added that they loved the "realness" of this video.
"The kids made the press conference a good one!" another commented. "It was hilarious and don't be surprised if he got a call for his kids to act in something! I love it! Btw they were still behaving!"
Truly the only person who didn't seem to love their reaction was Sirianni himself. Which is fair, he is the dad, after all.