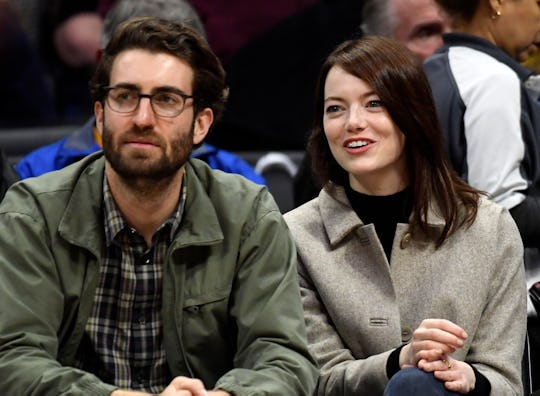 Kevork Djansezian/Getty Images Sport/Getty Images
Emma Stone Is Reportedly Pregnant, Expecting Her First Child
The actress was apparently spotted sporting an adorable bump.
We're just a few days into 2021 and there's already some exciting news to celebrate. Several outlets are sharing the news that Emma Stone is reportedly pregnant with her first child.
The La La Land star reportedly got married just this past September to her boyfriend of two years, Saturday Night Live writer Dave McCary. And now it seems the newlyweds are entering another exciting chapter of their lives. Stone was photographed by The Daily Mail when she was out for a walk in Los Angeles on Dec. 30, and the outlet reports that she was "cradling" a baby bump. Romper has reached out to a representative for Stone for comment on the reports.
While neither she nor McCary have officially commented on reports they are expecting, a source close to the couple told Us Weekly that the actress is very excited about becoming a mom for the first time. "She seems very happy and very excited about becoming a mother — she's constantly oohing and cooing. She looks great, she looks healthy, she's glowing. She's been keeping up with friends and work lately, she's always staying active and gets her daily exercise in," the source told the magazine.
The famously private Stone, who has long eschewed all forms of social media like Instagram and Twitter, did open up to her friend Jennifer Lawrence back in 2018 on her feelings about marriage and parenthood. In an interview for Elle, Stone told The Hunger Games actress that her priorities had been shifting as she got older, "My perspective about kids has changed as I've gotten older. I never babysat or anything. As a teenager, I was like, I'm never getting married, I'm never having kids. And then I got older and I was like, 'I really want to get married, I really want to have kids.'"
Now that Stone has turned 30 and met the man she wanted to marry, it seems the timing may be right for her to welcome a baby. As she told Elle in 2018, "It's the turning 30 thing where you're, like, 'I'm not that young. I'm young, but I'm not that young.'"
We don't know when Emma Stone and Dave McCary are expecting their first baby to arrive, whether it's a boy or a girl, or really much of anything beyond that bump photo. But we know this is a pretty positive way to kick off 2021. A lovely couple getting ready to be parents. And for now, that will have to be enough.