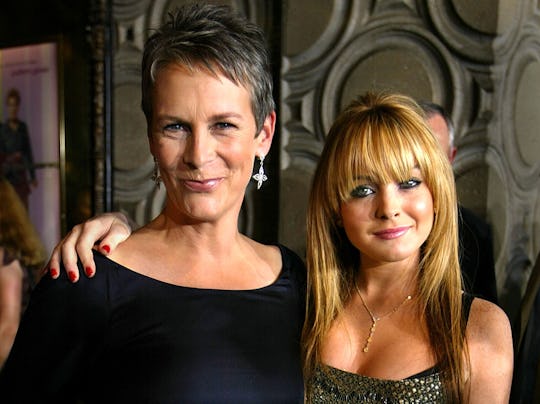 Carlo Allegri/Getty Images Entertainment/Getty Images
Freaky Friday Is Officially Getting A Sequel & Fans Already Have Plot Theories
It's been 20 years since Lindsay Lohan and Jamie Lee Curtis starred in the iconic body swap Disney movie Freaky Friday. It was a massive fan favorite, catapulting us into an era of body swap movies like 13 Going On 30, 17 Again, The Hot Chick, and more. But there was really nothing that stayed with fans quite like Freaky Friday. Everyone wanted to know what happened to Tess and Anna, even the actresses who played them. So let's all rejoice, because Freaky Friday 2 has officially gotten the green light. Here's what we know so far.
Lindsay Lohan and Jamie Lee Curtis are ready for Freaky Friday 2.
Curtis starred as Tess, a busy single mom of two about to get remarried to Ryan, stressed out and struggling to identify with her teenage daughter Anna, played by Lohan. The two end up getting swapped into each other's body on account of a fortune cookie, and start to understand each other better after living in the other person's shoes. It was hilarious and sweet and a perfect vehicle for Lohan's particular talents at the time, and she's ready to come back for it.
In fact, she told The New York Times that both she and Curtis were ready to return. "Jamie and I are both open to that, so we're leaving it in the hands that be. We would only make something that people would absolutely adore."
Curtis confirmed to Variety that "people are talking" and, while there's no official date, the movie is coming.
Freaky Friday 2 is in the works.
Disney confirmed that yes, Freaky Friday 2 is in the works to The Hollywood Reporter, and that both Lohan and Curtis are expected to return. Elyse Hollander is writing the script for the sequel to Freaky Friday, which was based on the the 1972 novel by Mark Rodgers.
Fan theories about the sequel are already making the rounds.
While Disney did not share any information about a possible plot for Freaky Friday 2, fans have been working on their own theories for ages. One Twitter user thinks Anna will have a child and Anna will swap bodies with her to live her younger days, while another person thought it would be a good idea to follow the plot line of the end of the first movie and have Tess's son switch bodies with his grandpa for the day.
If you want to come up with your own theories for the sequel, rewatch Freaky Friday on Disney+. It holds up.