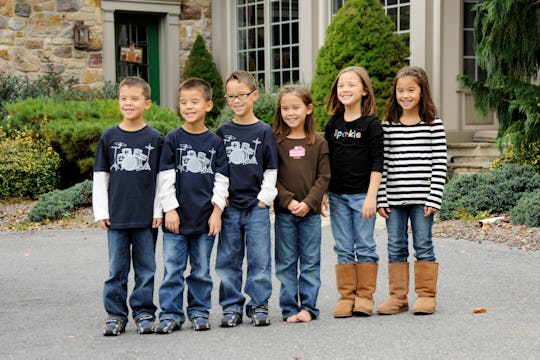 Donna Svennevik/Disney General Entertainment Content/Getty Images
The Gosselin Kids Are All Adults Now, Believe It Or Not
The sextuplets are 19 and the twins are 22!
There was a time when the Gosselin kids from TLC's Jon & Kate Plus 8 were difficult to distinguish. Simply because they were all running around the house together, playing and largely ignoring the cameras documenting their life as a family of one set of twins and a set of sextuplets. That was more than a decade ago, of course, and times have changed considerably for the family since then. Now those little kids are all grown up, and they're finding their own identities outside of their family unit.
The Gosselin family was at the height of their fame when parents Jon and Kate announced their plans for divorce in 2009 after 10 years of marriage. The divorce was unfortunately less than cordial, with Kate initially taking on full custody of all eight children. Their reality show was cancelled, and a spinoff series based on Kate's dating life called Kate & 8 Plus Date aired on TLC for just one season in 2019. All the while, the Gosselin kids were growing up. Now the sextuplets are all 19 years old while their older twin sisters are 22 years old. Suddenly, they are all adults. And living lives of their own. Here's what they're up to today.
Mady Gosselin
Now 22 years old, Mady Gosselin is living in New York City and has been for the past four years when not heading home to spend the holidays with her mom and siblings in North Carolina. In May 2023, Mady graduated with a B.A. in English Textual Studies, Film & Screen Studies and a minor in Art History, according to her LinkedIn profile. Now she works as a Junior Associate at Bubble. Mady recently deleted her Instagram after accusing her younger brother Collin of "violence and hate speech."
Cara Gosselin
Cara Gosselin also moved to New York City to attend university like her twin sister Mady, heading off to spend four years at Fordham University where she graduated with honors in math. Cara grew up to be quite sporty and was involved in rowing, varsity lacrosse, and field hockey as a university student. Now she works as an analyst at the Bank of America.
Collin Gosselin
Collin and his sister Hannah are the only two Gosselin kids to live with their dad Jon. He recently graduated high school and opened up about being sent away as to Fairmont Behavioral Health Institute in 2016 in a recent Vice documentary. He is estranged from his mom, who initially made the decision to send him away, but remains close to his dad and his sister Hannah.
Hannah Gosselin
Hannah Gosselin also recently graduated from high school along with brother Collin. She moved in with her dad in Pennsylvania not long after her mother, and doesn't appear to have a close relationship with her other siblings or Kate any longer. Hannah has her own beauty line called Gosselin Girl Beauty and is something of a TikTok influencer. She was also interviewed by Vice about her decision to leave her family home in North Carolina, and admitted her brother Collin had been "separated" from the rest of her family as a child.
Leah Gosselin
Leah Hope Gosselin is the fifth of the sextuplets and has managed to keep her private life exceptionally private. While it is assumed that she graduated high school like her siblings, she does not have a social media presence. But back in a 2013 interview with People, Leah gave a glimpse into her future plans and said she hoped to someday open a bakery with her sister Hannah. She also hoped to "teach little kids."
Joel Gosselin
The last born of the Gosselin sextuplets, Joel is another one who is rarely seen. We do know that he is a whiz at Go Karts after beating the rest of the family back in 2019, but otherwise Joel likes to keep his private life private.
Alexis Gosselin
Alexis Gosselin has apparently always loved animals, as evidenced by her pet bird Zorro, who mom Kate calls the "best of friends" with the 19-year-old. Even back when she was younger and imagining what she might want to do as an adult, Alexis had animals on the brain. She told People in 2016 that she "definitely wanted to work with animals someday." Considering she has always kept a little zoo of her own at the family home, that doesn't seem like much of a stretch.
Aaden Gosselin
Other than sharing the happy news that he had gotten his braces off in 2019 on his mom Kate's Instagram, Aaden keeps to himself. He is apparently very fast, and back in 2013 admitted that he wanted "to run in the Olympics" someday.
It's sort of incredible to think of all the Gosselin kids growing up, yet here they are. Moving into the next stage of their lives called adulthood.