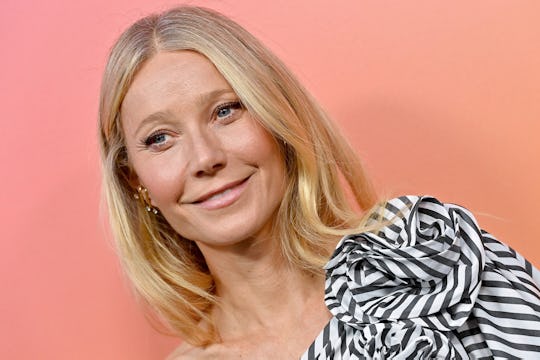 Axelle/Bauer-Griffin/FilmMagic/Getty Images
Gwyneth Paltrow Says She Did "Data Collection" On How Divorce Would Impact Her Kids
"I did this data collection of talking to adults who had been products of a broken home."
When Gwyneth Paltrow and Coldplay's Chris Martin announced in 2014 that they had decided to "consciously uncouple," the announcement came as a big shock to the public. But by the time the couple made their now-famous announcement, the mother of two had already done some extensive research on how to best guide their children through the transition and proceed with their divorce.
In a new interview with Bustle, the Goop founder opened up about her life and her family, including her 19-year-old daughter Apple and 17-year-old son Moses, who she co-parents with her ex-husband. "My kids are great. They're grounded and grateful and funny. But [Chris Martin] and I both really did not want to have them experience the divorce as a trauma," Paltrow said.
Paltrow went on to explain that once she realized that she wanted to get a divorce, she did "data collection" among adults who'd come from a "broken home." Her own parents, the late Bruce Paltrow and actress Blythe Danner, were married for 32 years, until Bruce's death in 2002, so she didn't have any personal experience with divorce.
"At that time, I did a very me thing, which was when I knew I wanted to get a divorce, I did this data collection of talking to adults who had been products of a broken home," she told Bustle. "Every single one of them said 'I didn't care that my parents got divorced. That wasn't it. But the fact that they wouldn't speak to each other, that they couldn't both sit at a dinner table for my birthday…' They said that was the most awful thing. You could see they held it with so much hurt and anger. I was like, 'That's what I'm never going to do.' And we really didn't."
Paltrow — who went on to marry Brad Falchuk in 2018 and became a stepmom to the producer's two children, 19-year-old Isabella and 17-year-old Brody — took that piece of information to heart, as did Martin. The pair have become known for their close friendship in the years since their divorce, with Martin even joining her and Falchuk on their honeymoon with their children. In fact, during a 2021 interview with TODAY, Paltrow described her ex-husband as being "like my brother."
"You know, he's my family. I love him," she told TODAY. "And I'm so grateful to him for giving me these kids. It worked out well ... You know, it really did, I have to say."
Certainly, two involved parents who also care about each other is ideal. And while it doesn't happen for everyone, Gwyneth Paltrow and Chris Martin made it work. And keep making it work.