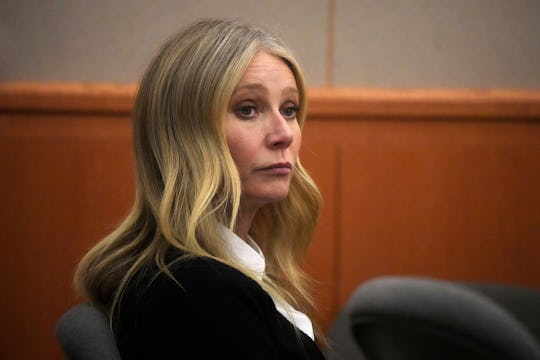 RICK BOWMER/AFP/Getty Images
Gwyneth Paltrow's Son Moses Testified His Mom Dropped The F-Bomb In 2016 Ski Collision
He was defending her so it's fine.
Gwyneth Paltrow's children have come to her defense. The actress has spent the last several days in court, where she is being sued by 76-year-old retired optometrist Terry Sanderson, who has alleged that Paltrow ran into him on a beginner's slope at Deer Valley ski resort in Park City, Utah in 2016. Now, Paltrow's children, 18-year-old daughter Apple and 16-year-old son Moses, who were with her that fateful day in February, have delivered their sides of the story.
While neither Moses nor Apple, who Paltrow shares with ex-husband Chris Martin, witnessed the ski crash, they both remember their mother's reaction to what happened that day. In depositions that were read in court, Apple recalled seeing her mother looking "a bit shocked."
"I asked what happened and she said 'this a-hole ran into me, he ran right into my back,'" Apple, who was 11 years old at the time, recalled in her deposition. "She was in a state of shock and she decided after that she was not going to ski for the rest of the day which she never does, she always stays on."
"I never see her shaken up like that," Apple testified, "and she had some sort of pain, and I remember that's why she went to the spa to get a massage."
As for Moses, who was 9 years old at the time, he remembers seeing his "mom on the ground" when he skied over to see her, and noticed "a person on the ground behind her who had crashed." He also heard Paltrow getting a little salty with her language apparently. "I heard my mom yelling at the guy," Moses said in his deposition. "She was saying something along the lines of 'what the f word you just ran into me.'"
Paltrow herself testified that she did indeed yell "you're skiing directly into my f*cking back" at Sanderson, so it seems Moses may not have been too far off the mark.
Whether it was Paltrow who skied into Anderson, who is suing her for $300,000, or Anderson who skied into Paltrow, who is countersuing for $1, remains to be seen. The trial is meant to determine who is at fault and is expected to last eight days. For Moses and Apple Martin, however their part in the trial appears to be over for now. Their mother must feel incredibly thankful that her two kids stepped up to support her. Even if they did out her for using salty language.