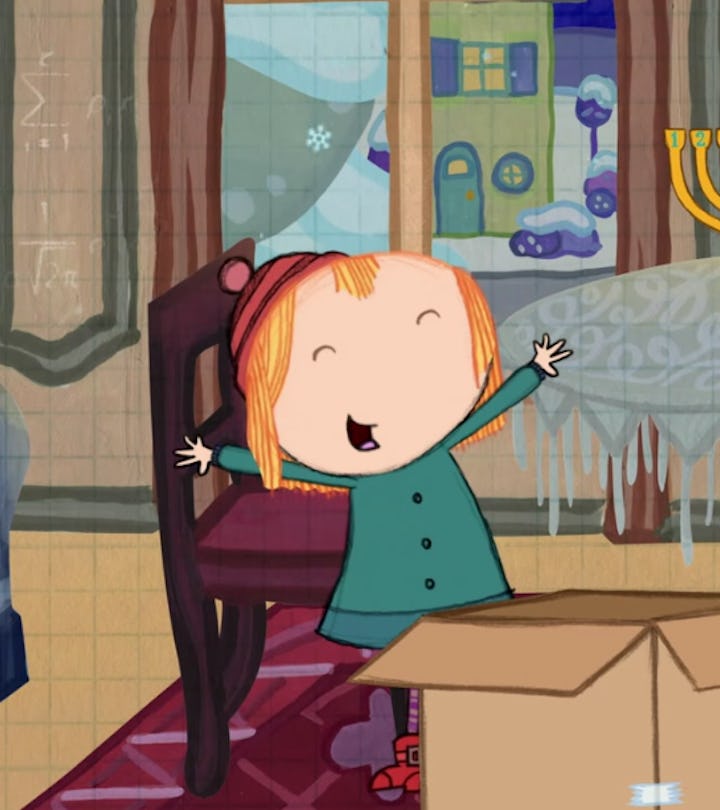 PBS Kids
18 Hanukkah Movies To Watch With Your Kids During The Festival Of Lights
From cartoons to sitcoms, there's something for everyone in the family.
We see the twinkle of lights and smell delicious carbs frying in oil, which can only mean one thing: Hanukkah is coming. From sundown on Dec. 7 to 15, families will gather to light the menorah, sing songs, eat latkes and jelly donuts, exchange gifts, and tell the story of the Maccabees' resistance against Greek colonizers. But for those who want to cuddle up with a Hanukkah movie, special, or episode of your favorite show... well, that might be a little bit of a challenge. There aren't too many out there, at least not compared to media for another December holiday that's also coming up...
But there's another reason there aren't a lot of Hanukkah movies — it's not (and has never been) a major Jewish holiday. It's still a fun! And important in that commemorates a miracle and an inspiring tale of the importance of Jewish heritage. But as far as the Jewish holiday calendar goes, it's not as big a deal as Rosh Hashanah, Yom Kippur, Passover or a bunch of others that non-Jews have probably never even heard of.
But Hanukkah is awesome and representation is important, so we're determined to put together a list of some of our favorite Hanukkah movies, specials, and episodes of TV shows you can watch with your kiddos while you spin the dreidel.
Chag sameach, everybody!
This article was originally published on