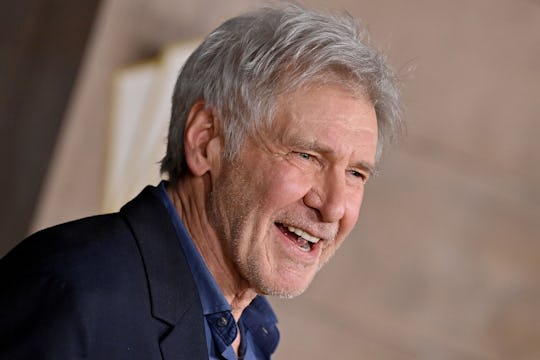 Axelle/Bauer-Griffin/FilmMagic/Getty Images
Harrison Ford Is A Proud Dad Of 5 Kids Who Are More Than 30 Years Apart
"My older children have taught me a lot. My first child was born when I was 25; I reckon I'm a little better at [parenting] now."
Harrison Ford is perhaps just as famous for being something of a tight-lipped curmudgeon as he is for his legendary movie career. If you've ever seen him in an interview, he is not someone who likes to answer questions about his life. Like, ever. So one could be forgiven if they didn't know a whole heck of a lot about his private life. But now that Ford is suddenly everywhere again, with his Yellowstone spin-off 1923 and Apple TV+ series Shrinking with Jason Segal, people are naturally curious about the man himself, so here's what you need to know about Ford's family.
Shrinking had him thinking about his own relationship with his family.
In an interview with The Hollywood Reporter, Harrison Ford admitted that there was an element of his character Paul's journey in Shrinking that resonated with him. "There are family issues that were relatable to me, OK? I've got five kids," he told the news outlet. "This guy's got a daughter he doesn't see very often and an ex-wife. There are issues with his family — which are not the same issues I have with my family. But there are things we worked our way through, so I found an emotional reality to attend to."
He moved away from Hollywood for his kids.
Long before it became fashionable to move away from Los Angeles or New York City, Ford moved to a ranch in Wyoming where he continues to live to this day. And he made the move with his family in mind. "The question is: How do you want to spend your life? How much freedom do you have against how much freedom do you want? Do you care if you miss roles or not? Do you want to be there for everything? I lived in Los Angeles for a long time before I left. I wanted it for my kids," he told The Hollywood Reporter.
Harrison Ford's oldest son Benjamin is 56 years old.
Harrison Ford, 80, was still an unknown actor when he and his first wife, illustrator Mary Marquardt, welcomed their son Benjamin in 1966. The Star Wars actor was himself just 25 years old at the time. Ben Ford has become a celebrity in his own right. A celebrity chef who wrote his own cookbook, Taming the Feast: Ben Ford's Field Guide to Adventurous Cooking, in 2014.
Ben is a dad himself.
Ben and his wife Emily are parents to two sons, Ethan and Waylon, and in 2019 Ben tweeted an appreciation post for all his dad had taught him. "I love this photo of both of us grilling it up. Metaphorically I think it speaks volumes. My dad or pops (newly adapted) He taught me resiliency as a young father and later helped give me the courage to pursue my dreams. Happy Father's Day!"
His second son Willard was born in 1969.
Ford and his first wife Marquardt welcomed their second son Willard together in 1969. Much like his older brother Ben, Willard, now 53, went his own way when it comes to his career path. He is an entrepreneur who owns Strong Sports Gym in Los Angeles. Also like older brother Ben, he made dad Ford a grandfather with his two children, Eliel and Guiliana Ford.
Ford's son Malcolm, 35, is a musician.
Harrison Ford and his second wife Melissa Mathison welcomed their first child together, son Malcolm, in 1987. Malcolm went to school in Jackson Hole, Wyoming, and grew up to go into show business himself. As a musician. He and Jack Byrne, son of Ellen Barkin and Gabriel Byrne, formed the band The Dough Rollers, and they opened for big names like Bob Dylan before disbanding in 2016. "I didn't grow up with music in the house, like every kid had 'Blackbird' playing when they got home from school or something," Malcolm told Interview magazine in 2013. "My mom would have Wagner on sometimes, but I got into punk music first. My first cassette was Green Jellÿ. That was the band I was really into."
Georgia Ford, 32, is her father's only daughter.
Ford and Mathison welcomed the actor's only daughter Georgia in 1990. Georgia has acted in movies like American Milkshake in 2013, True Story in 2015, and the short film series I'm Being Me in 2020. She also reportedly struggled with epileptic seizures as a child, something Ford got emotional about at the NYU Langone Medical Center's Find a Cure for Epilepsy and Seizures (FACES) event in 2016. Ford talked about trying to find the right medication for his daughter and praised her perseverance. "I admire a lot of things about her. I admire her perseverance, her talent, her strength. She's my hero. I love her."
He adopted 21-year-old son Liam.
When Harrison Ford adopted son Liam with his now-wife, Ally McBeal star Calista Flockhart, he credited his older kids for guiding him as a dad. "My older children have taught me a lot," Ford told The Independent in 2010. "My first child was born when I was 25; I reckon I'm a little better at [parenting] now."
Ford has really taken this whole new lease on life thing seriously, even going skydiving with son Liam in 2019. He told Ellen DeGeneres the two enjoyed themselves and might go again, "but we won't be telling his mother."
So now we know the secret. Harrison Ford is really just a dad trying to keep that bond with his kids. Not such a curmudgeon after all.